Title:
IASP WEBINAR VIDEO: "Areas of Innovation and the City"
Billede: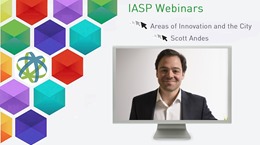 Publication date

August 2017
Description:
In this second webinar in the IASP Webinars Programme for 2017, Scott Andes from the Brookings Institution explored Areas of Innovation and the city, with a special look at recent research on the economic impact of universities in cities.
Scott Andes is a senior policy analyst and associate fellow with the Anne T. and Robert M. Bass Initiative on Innovation and Placemaking. His work focuses on innovation strategies for cities, advanced manufacturing, and science and technology policy.
IASP members, please log in to purchase the video for the discounted members' price of 45 Euros.