Title:
IASP WEBINAR: "Intellectual Property in STPs (part 2)"
First image: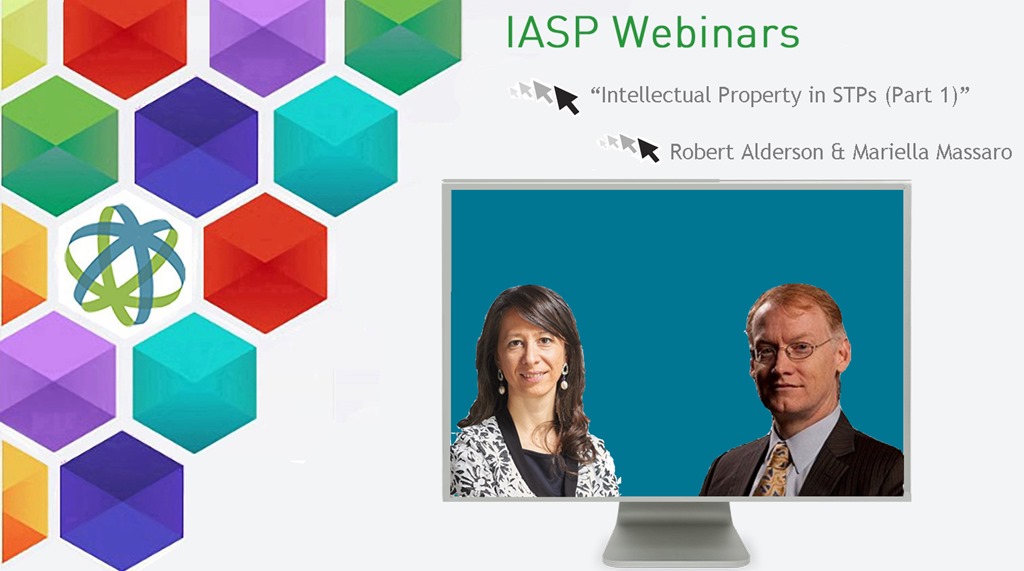 Notes:
On January 23rd at 2:30pm GMT+1 (8:30am New York time, 8:30pm Beijing time), Robert Alderson and Mariella Massari of Jacobacci & Partners will join us for their second webinar exploring Intellectual Property in science parks. The first session looked at the benefits provided by intellectual property as a non-tangible asset of companies, while part 2 will examine basic strategies for building an intellectual property portfolio with a focus on global patenting strategies.
Click here to book your place.
About the speakers
Robert Alderson
Robert Alderson is a partner and Head of International Business Development at Jacobacci & Partners. He joined the firm in 2011 after working nearly 14 years as an intellectual property attorney in New York, and is now based in Turin, Italy.
As a United States and European patent attorney, Robert's primary responsibility at Jacobacci & Partners is to act as a convenient contact point for universities, science parks, companies and law firms around the world, particularly those seeking high-quality, reasonable-cost services in connection with their European intellectual property matters.
Mariella Massaro
Mariella Massaro has been practicing intellectual property law with the Jacobacci Law Firm since 2005.
Her practice covers all aspects of intellectual property created through innovation, primarily in the form of patents, know-how and design, from initial R&D to worldwide commercialization, including the negotiation and drafting of international agreements.
Ms. Massaro's litigation experience provides her with insight in developing IP policies and in identifying risks and opportunities concerning IP assets. She is also actively involved in creating compliance programs for Free and Open Source software projects and in complex negotiations of software licenses.
Mariella also helped establish the Russia Desk for Jacobacci & Partners in 2015.