Name:
INCOBRA-Increasing International Science, Technology and Innovation Cooperation between Brazil and the European Union
First image: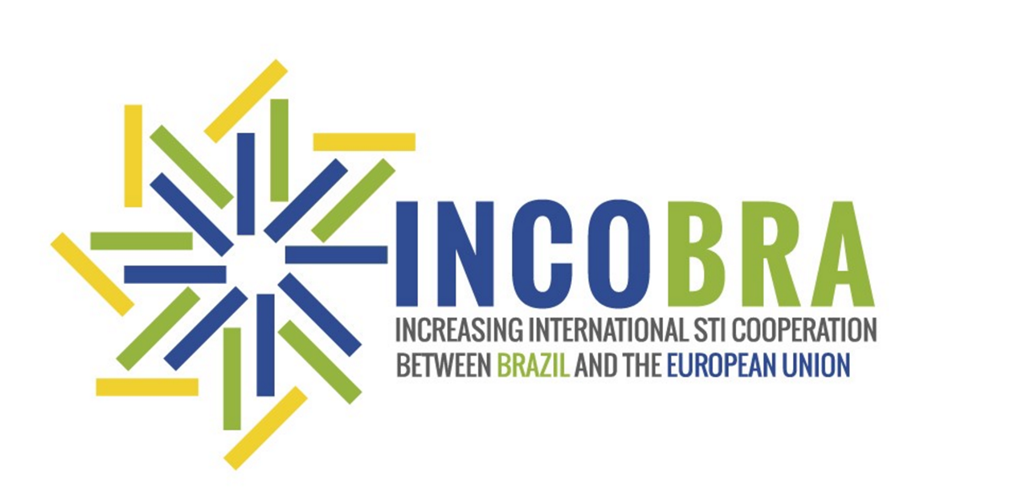 Objectives:
Objectives
Three dimensions of INCOBRA overall objective

Focus: Better targeted R&I cooperation activities: addressing BR-EU R&I cooperation areas (agro-food/marine research;
energy, nanotechnology; ICT) and anticipating trends and opportunities.
Increase: More R&I cooperation activities: more partnerships, consortia and joint R&I projects.
Enhance: Improved and sustainable framework conditions for developing R&I cooperation activities: funding programmes aligned and R&I agendas coordinated.
Activities:
Activities
INCOBRA Bilateral cooperation networks: Call for expressions of interest
This Call aims to foster and strengthen the mutual cooperation of Brazilian and European R&I actors through the support of bilateral networks on a variety of priority areas (Bioeconomy, Food Security and Sustainable Agriculture; Energy; ICT; Nanotechnology; and Marine Research) by providing a Grant for the implementation of mutual bilateral visits and workshops. The main objective of the Call is to select 5 bilateral R&I cooperation networks.
The INCOBRA project will then provide a series of consultancy services to the selected bilateral R&I cooperation networks in order to accompany their initial steps, guiding and counselling them, supporting their activity, fostering interaction and facilitating their integration together with a non-repayable Grant (total amount of 19,500€ per network) which shall be used for the organisation of working meetings and for travel expenses of their representatives.
These networks could encompass centres of excellences, competence centres or clusters, among other types of R&I networks. Existing R&I networks formed of European and Brazilian organisations operating in the identified R&I priority areas, past consortiums of BR-EU projects that would like to continue working together and European and Brazilian organisations aiming to work together and submitting project proposals for available funding, are the type of networks the project INCOBRA is looking for.
Applicants will have until the 15th of December to present their proposals.
The grant and the consultancy provided by INCOBRA aims to create and/or foster a sustainable STI partnerships between Brazilian and European networks, consolidating a long term cooperation framework.
The Call and further information can be found here.
Promoting Brazilian participation in Horizon 2020

One of the core missions of INCOBRA is to promote Brazilian research and innovation system, contributing to increasing the country's participation and engagement in the Horizon 2020 programme.
For that reason, INCOBRA is organizing a series of 7 webinars – starting on November 21st up to May/2018 - in Portuguese, oriented to the Brazilian scientific community about Horizon 2020.
The first news on the course will be published in the INCOBRA website


Consortium members
Members:
Logo:

Project member full name:
TECNOPUC - Parque Científico e Tecnológico da Pontifícia Universidade Católica do Rio Grande do Sul
Logo:
Project member full name:
Porto Digital Technology Park
Logo:
Project member full name:
Universidade Estadual de Campinas
Logo:
Project member full name:
Consejo Superior de Investigaciones Científicas (CSIC)
Logo:

Project member full name:
European Business & Innovation Centre Network
Logo:

Project member full name:
International Association of Science Parks and Areas of Innovation
Logo:
Project member full name:
Österreichische Forschungsförderungsgesellschaft
Start date:

01 February 2016

End date:

01 February 2019