Title:
Inspiring Solutions 2018: the shortlist
First image: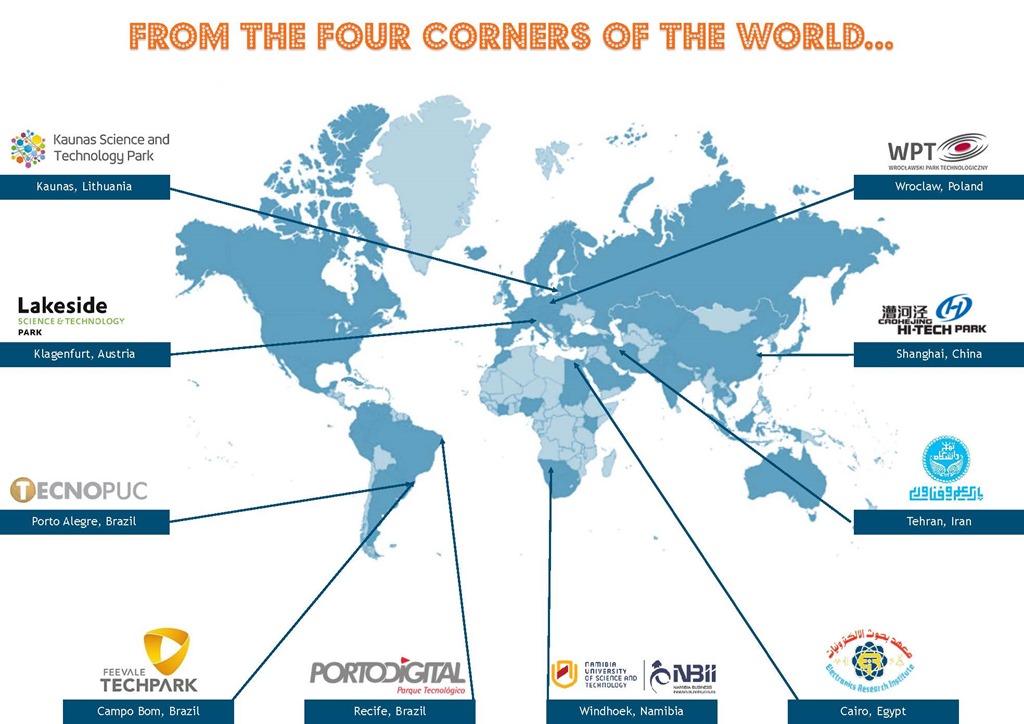 Text:
The news you have all been waiting for: our 10 Inspiring Solutions finalists 2018!
The expert committee has analysed all entries and selected the 10 best ideas from around the world. They are:
Big Science Path, by Wroclaw Technology Park, Poland: Big Science Path is Wroclaw Technology Park's response to the wealth of big science projects currently underway around the world, with a focus on those nearby, in Europe. It helps bridge the gap between large-scale science projects and their innovative SMEs and startups.
Enhancing the role of Science and Technology Parks as the hubs for Commercialization process in technology market place by Science and Technology Park - University of Tehran, Iran: Science and Technology Parks and Areas of innovations could be defined in their network - from the suppliers to customers of the new products and technologies - as a commercialization hub in their city, defining themselves via the Supply Chain Management model.
Entrepreneurship and New Product Development Program EVOLUT 4.0 © by Kaunas Science and Technology Park, Lithuania: A program that develops innovative technology-based business ideas in Industry 4.0 based on international methodologies. It guides entrepreneurs and startups through the innovation development process, leading them towards successful product commercialization and scale-up.
Feevale Techpark Investor's Group by Feevale Techpark, Brazil: A partnership between VENTIUR Accelerator and Feevale Techpark which jointly set up a startup acceleration and investment program. In addition to meeting the Park's growth objectives and benefiting startups, it influences the region's mindset, creating an open environment for innovation.
Mobile Lab by Namibia University of Science and Technology, Namibia: Mobile Lab promotes mobile applications development by local software developers, through programming hackathons, training, peer-learning events and networking. The initiative grew from an average of 5 members in 2014 to a current 600+ members, of which 38% are women.
Light and Fast Innovation Ecosystem by Tecnopuc Science and Technology Park of PUCRS, Brazil: An innovative new management structure for managing an innovation ecosystem based on a distributed organization. Teams are organized as a network of nodes that promote autonomy, responsibility, empowerment, transparency and coordination of all team members.
NAWImix by Lakeside Science and Technology Park, Austria: Teaching teachers how to teach is the credo of the NAWImix in the Educational Lab of Lakeside Park. STEM field teachers are trained in innovative ways with collaboration of tenant enterprises in the STP to empower the next generation of entrepreneurs and employees.
OIL - Open Innovation Lab by Porto Digital, Brazil: An open innovation program that brings large corporation challenges to the awareness of local entrepreneurs and academia, enabling connections that become new products. It makes use of a proven methodology and offers support during each cycle of innovation.
Thinkubation Accelerating Program driven by CHJ and Cisco CRDC by Shanghai Caohejing Hi-tech Park, China: A collaborative open innovation program formed by CHJ and China Research& Development Center to share resources, co-incubate and co-invest in high potential growth startups, and establish joint labs for developing innovation capabilities.
Transform scientific research outputs to industrial prototypes by Science and Technology Park for Electronics Research and Industry (STPERI), Egypt: A programme to generate a local electronics industry through technology transfer and close partnership with international research institutes, universities and science parks.
You can read full details of this year's finalists at www.iaspinspiringsolutions.com; if you're looking for inspiration, don't forget that previous years' winners are also available in our library of best practice.
Voting is now open for IASP members to select their three favourite solutions: the three which they consider to be the most innovative, the most inspiring, and the most useful for other science parks and areas of innovation. The winners will be announced live on stage at our World Conference in Isfahan, Iran, from 2nd – 5th September: join us there to be the first to hear the news
IASP members, keep an eye on your inbox for the link to vote!