Statistics
IASP regularly collects statistics to monitor the state and existing trends in the science and technology park (STP) and area of innovation (AOI) industry throughout the world. The IASP full statistics and reports can be obtained from the Knowledge Room. Here is a small selection of some of the key figures from the most recent report
Name:
Composition of the Board of Directors in STPs/AOIs
Image: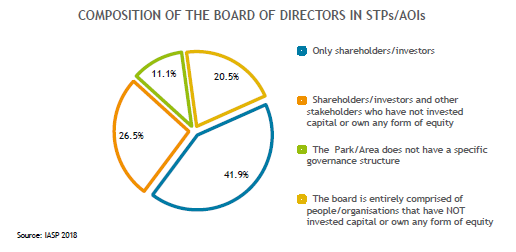 Caption:
(Source: IASP 2018) Boards of directors play a key role in providing strategic oversight and guidance, ensuring that the STP/AOI is well-run and well-positioned to provide the highest quality services to their resident companies; helping to formulate new strategies, or reviewing and fine-tuning current ones. They act to oversee the STP/AOIs' activities in order to continually improve performance and increase the value offered to resident companies.The above pie chart shows that the vast majority of STPs/AOIs do have a designated governance structure (88.9%), which breaks down into 3 smaller groups. The largest of these categories with 41.9% of all STPs/AOIs is that the board of directors is composed solely of shareholders and/or investors.
Name:
Main technology sectors in STPs/AOIs
Image:
Caption:
(Source: IASP 2018) Whether STPs/AOIs have a specific focus on technology sectors or not, it is frequently the case that some sectors predominate more than others. STPs/AOIs tend to gather the most relevant technology sectors, those showing a greater capacity for innovation and added value. 64.1% of all STPs/AOIs surveyed stated that ICT & Communications is one of the 4 main technology sectors represented in their park/area
Name:
Percentage of employees working in R&D in STPs/AOIs
Image: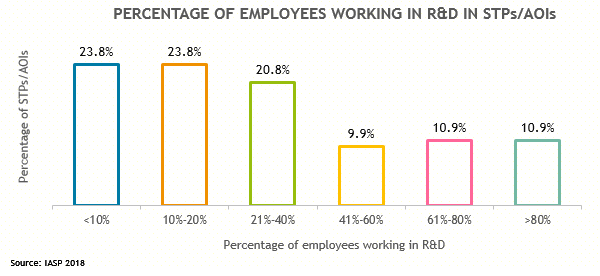 Caption:
(Source: IASP 2018) Research and Development is a vital activity for the great majority of STPs/AOIs, research and technological institutes and universities being some of the main elements present within the parks/area's premises. In order to understand the state of research and development in STPs/AOIs around the world, IASP asked members what percentage of employees they have working in R&D in their park/area. 21.8% of respondents had more than 60% of their employees working in R&D and a further 9.9% with somewhere between 41 and 60%.