Title:
New eco building in R+T Park to produce more energy than it uses
First image: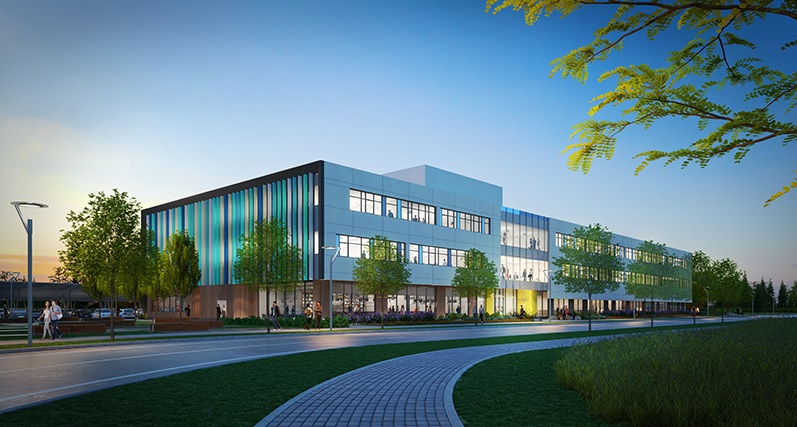 Text:
Tech companies are already showing interest as construction begins on a cutting-edge energy-producing office building in Waterloo's David Johnston Research + Technology Park, an IASP member from Canada.
The 100,000-square-foot building, known as evolv1, promises to generate more energy than it consumes after it opens next year, according to the building's developer the Cora Group. That will make it Canada's first multi-tenant commercial building with net-negative carbon emissions.
Two major companies are already waiting to move in: anchor tenant EY, and fast-growing mobile tech company TextNow, whose head office is currently based in the R+T Park's Accelerator Centre. TextNow's new headquarters will occupy 25,000 square feet in the new building, including 4,000 square feet for an employee fitness centre.
TextNow co-founder and CEO Derek Ting said "evolv1's proximity to the University of Waterloo puts us right next to one of the most robust talent pipelines in the world. We're constantly looking for ways to attract and retain the very best talent and with our mission, our unique culture and now our plan to reside in one of the coolest workspaces in Waterloo, all of the pieces are coming together."
The Cora Group conceived the new building in collaboration with EY, the R+T Park and Sustainable Waterloo Region, whose Executive Director, Tova Davidson, called it "a game-changer" that can serve as a beacon to potential tenants and other landlords. "For other building owners and emerging companies who are looking for a place to call home, there is no reason to say that financially, a zero carbon footprint is not possible," Davidson said.
Beyond its green credentials – copious natural light and smart electric lighting, a living wall, clean air, electric-vehicle charging stations and a location near a new light-rail transit station – the building has been designed to appeal to fast-growing tech companies and their employees, said Adrian Conrad of the Cora Group.