Heading:
Spotlight on women in science parks - Brazil
Publication date - real:
01-06-2018
User info - details - for blog detail layout:
First image: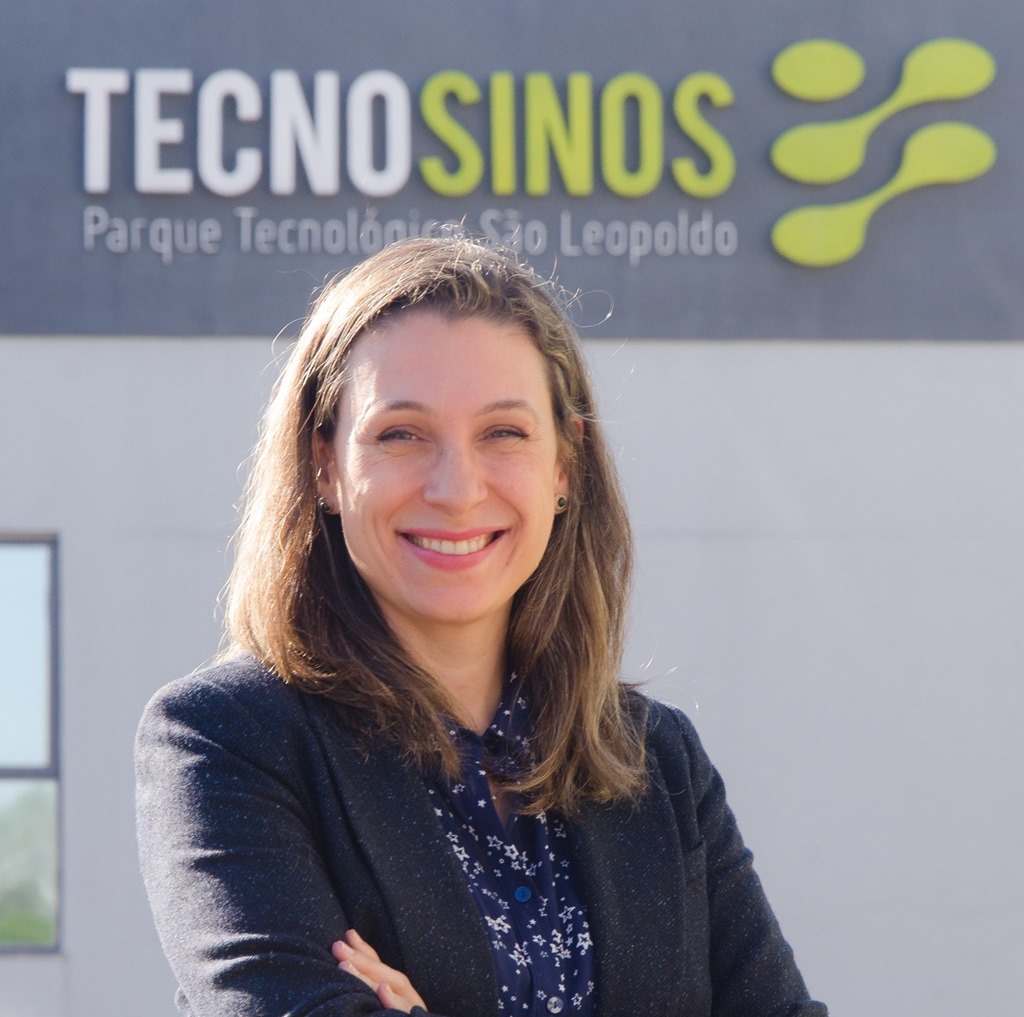 Long text:
One of the aims of our Women in IASP subnetwork is to raise the profile of female science park managers, and over the next few months we'll be featuring interviews with members of the group from around the world who will tell us about their journey into the industry, their STP, and gender equality in their country. Today we are talking to Thaís Rücker from Tecnosinos, Brazil.

1) Tell us a bit about what you do at Tecnosinos: what does a typical day involve?
I am in charge of the Communication and International Affairs, which means I am head of the Tecnosinos communication nationally and internationally with different target audiences, including entrepreneurs, journalists, students, investors, and the community. My job involves writing marketing communications material, provide the media with information about Tecnosinos Tech Park and its tenant companies. In the same way I work producing content and managing our official communication channels (website, newsletter, social networks). I am also head of our internationalization programs, which we call Soft-landing, to help international companies that want to establish here and the Take Off Program, where we provide all the support for companies that want to do business abroad. The days here are very dynamic, we received an average of four international delegations per month and more than a dozen national visits that come to get to know the work of Tecnosinos, our companies and the ecosystem of innovation, and to establish partnerships.
2) What was your journey to working in the science park industry – what did you study or work on before joining Tecnosinos? What brought you here?
I graduated in Communication at Unisinos (Brazil) and did a specialization course in Marketing at the University of Belgrano (Argentina). My curiosity and interest in technology and innovation have led me to work with communication in startups, companies and organizations linked to technology, including in other countries, such as Argentina and England. In Brazil, I was in charge of the communication of organizations such as the Free Software Association, which annually organizes the largest free software event in Latin America, and the Digital Office of the state government of RS, which received five awards for innovation in open government (one of them was an international award granted by the World Bank). All these experiences and fluency in three languages enabled me to do the work that I am doing today at Tecnosinos.
3) What do you enjoy most about your job?
The chance to meet new people and cultures every day from the delegations we receive and events we attend. I am also fascinated with the possibility of helping young entrepreneurs with their challenges and then seeing innovative ideas becoming real business. In the same way, working in the Tecnosinos Tech Park is to be in an environment that fosters innovation and technological entrepreneurship, being part of a very professional and affectionate team. We truly believe that the impacts of the seeds we plant here exceed the limits of the region and really have the power to change realities.
4) Tell us a bit about Tecnosinos: what makes it unique? What impact does it have on the local community and the region?
Tecnosinos represents one of the most important technology parks in Brazil. Currently around 100 companies from Brazil and from other countries compose the Park, which can be incubated or established companies based on technology, and in the following areas: Information Technology; Automation and Semiconductors; Communication and Digital Convergence; Health Technologies, and Socio-environmental Technologies. Founded in 1999, the Park has grown substantially in recent years. In comparison to 2008, for example, the number of companies installed in the Park has doubled and in 2017 the Park reached about 5,500 direct jobs. With the aim of promoting the development of its local region and in order to impact the ecosystem in a global level, Tecnosinos governance is shared between municipality, companies and the university. And it has increasingly attracted the attention of important partners.
5) As a female science park employee, what is your advice to other women interested in this industry or who work in innovation?
We have here in Tecnosinos women developing amazing things, even if we are a minority, that means we can, and that we also need to occupy spaces for entrepreneurship and innovation, just as we already occupy spaces in the university (according to national research, women today represent the majority among students and professors in Brazilian universities). I believe that our challenge as members of the management of a Tech Park is to provide welcoming spaces for women and to promote activities that encourage and bring women closer to these environments, which are now largely dominated by men.
6) How do you see gender equality in your country? How would you describe the participation of women in the field of innovation?
Women are 51.4% of the population of Brazil and today they occupy 60% of the places in the universities. However, they hold only 11% of the seats on boards of directors of the largest companies in the country. A survey recently released by the Ethos Institute, with support from UN Women, reveals that they have an advantage over men only in low-level positions, such as apprentices and trainees, with a participation of 55.9% and 58.9% respectively. When we look at the technology sector, the situation is even worse; globally women represent only 30% of the workforce in this area. In Brazil, they are only 25%. Women's participation is also small in undergraduate science and technology courses and account for only 17% of programmers in the country. It is true that we are advancing these issues and there are many initiatives in the country to promote women's empowerment and thus the insertion of women in areas such as entrepreneurship and innovation, but much more needs to be done to achieve equality.
7) What are your thoughts about the importance of gender equality on a global level?
The importance of the theme is unquestionable and Gender Equality is the third Millennium Goal of the United Nations (UN). Empowering women and promoting gender equity in all social and economic activities, in addition to improving the quality of life of women, children and men, effectively strengthens economies, boosting business and promoting sustainable development. In the business environment, this is no different. When women thrive, business also thrives. Therefore, it is something that we must all embrace, in all spheres, because defending gender equality is fundamental to achieving a fairer society, with less prejudice and discrimination.
There are no comments