Title:
IASP members collaborate on Scale-up Champions
First image: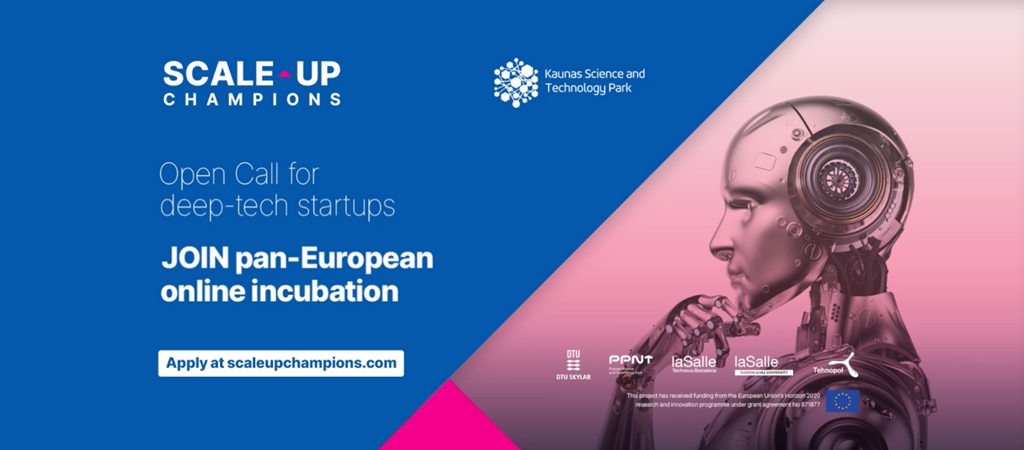 Text:
Four IASP member science parks are collaborating to run Scale-up Champions programme, an online incubation programme for European deep-tech startups.
IASP members La Salle Technova (Spain), Tehnopol Tallinn (Estonia), Poznan Science and Technology Park (Poland) and Kaunas Science and Technology Park (Lithuania), and other partners, are working together on a virtual incubation initiative that aims to scale up innovative businesses across the EU and help startups to achieve market success.
Funded by the EU's Horizon 2020, Scale-up Champions aims to connect different European deep-tech startup ecosystems and support cross-border activities to standardize the growth routes in Europe. The project connects startup ecosystems at different stages of development across Europe, helping them to access new markets, find investors and connect with corporates.
Scale-up Champions is now inviting AI, fintech, medtech and other deep tech innovators to join the project's online incubation programme which helps young enterprises to scale-up, expand their markets abroad and access the network of business mentors and investors.
Designed to boost deep tech startups who are reinventing the way we think and consume, the programme connects startups across Europe with their local tech hubs offering comprehensive coaching, mentoring, and training curriculum to help startups create a solid business model in foreign markets. In September- November 2020, without the need for physical travel, startups get an access to the workshops held by international deep-tech superstars.
More than a simple training programme, Scale-up Champions serves as a matchmaker between startups and corporates eager to cooperate and develop deep-tech innovation together. In addition, startups can benefit from a large network of investors and deep-tech founders. Thanks to the founder-to-founder learning, startups will be introduced to like-minded founders, allowing them inspire each other, share experiences and know-how.
To find out more about Scale-up Champions, please visit https://www.scaleupchampions.com/for-startups.