Title:
International CleanTech innovation programme launched at Palestine Techno Park
First image: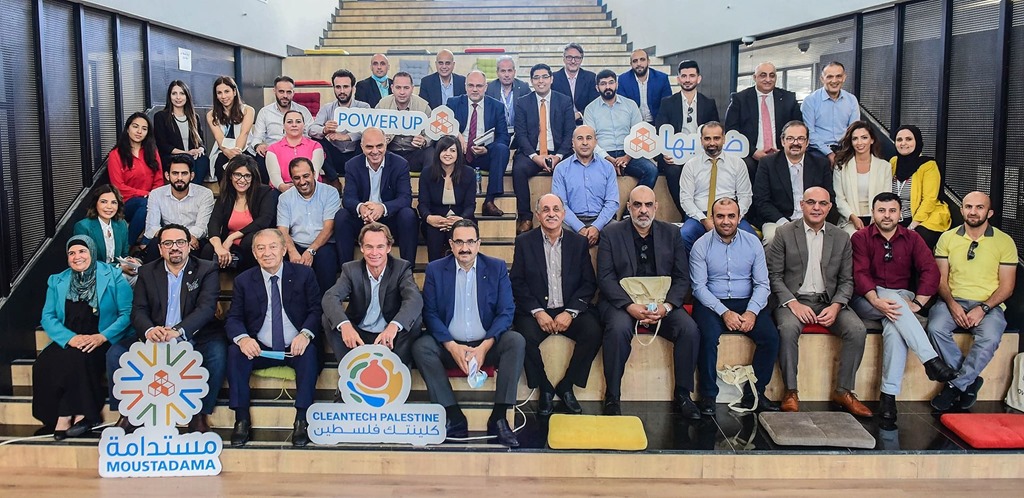 Text:
The Palestine CleanTech Innovation Programme was launched today at the Palestine Techno Park at an inaugural ceremony attended by representatives from the UN, EU, and the Palestinian Government.
The first national initiative to open the door to strategic technological innovation in clean energy, it was inaugurated in an official ceremony at the Palestine Technology Park in Birzeit and in the Gaza University. Offering a platform for CleanTech startups and entrepreneurs to develop innovative, locally driven energy efficiency and renewable energy technologies and solutions, it that will increase industrial competitiveness, create jobs, and promote a sustainable environment and contribute to the reduction of gas emissions.
The Palestine CleanTech Innovation Programme combines the setup of a network of physical hubs, offers bespoke market exposure activities - through business forums, business workshops, and global expos, and organizes an annual competition for new cleantech energy projects and solutions.
Designed to offer a stimulus to Palestinian clean technology entrepreneurship, it will animate the CleanTech innovation ecosystem and connect entrepreneurs to mentors, funds and international markets. Tailored to local needs, the activities developed through the CleanTech Hubs, the networking initiatives and the annual competition will demonstrate how locally driven, innovative energy solutions can facilitate the expansion of the industrial sector, increase energy stability for industrial activities, and reduce emissions.
Located in West Bank, East Jerusalem, and the Gaza Strip, the Palestine CleanTech Hub Network is established in collaboration with three host organizations: Palestine Techno Park, Al Quds University, and Gaza University. These Hubs aim to provide early-stage nurturing of innovative local clean technologies to Palestinian entrepreneurs. Participants to the CleanTech Hubs will connect with researchers and experts and have access to development platforms and a library of solutions and latest technologies. Training will include business and market skills development and technical education and certification. Finally, the accelerator process from the Hubs will facilitate access to local and international business partners and investors who are key stakeholders in clean technology innovation.
The competition also launched at the inauguration will provide access to mentors, funds, and investors. The Palestine Cleantech Innovation Competition - 1st Edition 2021 is now calling for applicants with clean technology ideas focused on Energy Efficiency, Renewable Energy and Water-Energy Nexus (Efficiency). The competition is open to Palestinian entrepreneurs and startups based in Palestine and abroad, in teams as well as individuals, who have innovative cleantech business ideas, proof of concepts, protypes and/or products.
90 candidates will receive intensive mentoring and training throughout the life of the MOUSTADAMA Programme. This will be through organizing annual 10-day national academy sessions, and a 10-week acceleration phase, which includes business and industry clinics, webinars, continuous mentorship, mock judging, and linkages to industries. The selected entrepreneurs and startups will then present their technologies, products, and business models to judges at a final pitching event. The three best startup ideas will be awarded up to 25,000 Euro each, and up to three national winners will be selected to participate in the United Nations Industrial Organization (UNIDO) Global CleanTech Innovation Programme (GCIP) annual Global Business Forum to be held in Silicon Valley in October 2021.