Title:
KAUST startups pitch at 9/10ths Accelerator
First image: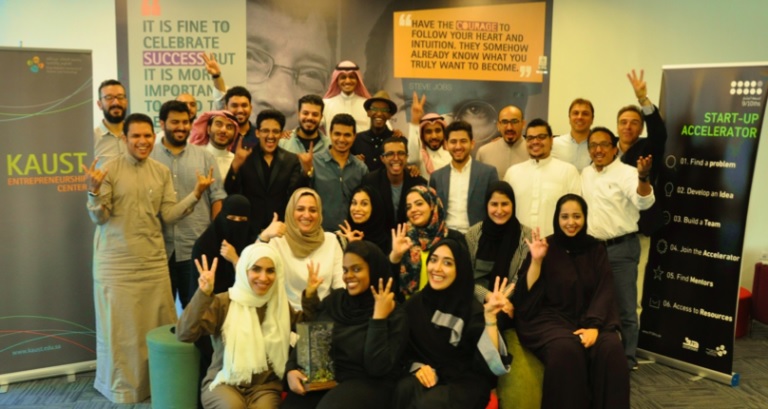 Text:
In front of a room of judges, 22 startup teams recently pitched their ideas following an intensive month-long programme at KAUST, Saudi Arabia.
These entrepreneurs are part of the third cohort of the 9/10ths Accelerator, a full-time programme that develops early stage Saudi startup teams into high-potential companies, and that is managed by the KAUST Innovation and Economic Development Entrepreneurship Center. The continued collaboration between Takamol, who fund the accelerator, and KAUST reflects the mission of the Entrepreneurship Center to support the emerging Saudi startup sector.
Sara Alawaji, developer of the 9/10ths programme, explained that the judges were looking for more than just a good idea: "We're looking for the Saudis from within these startups that are going to contribute to future success. It's not just about the businesses and their ideas, we're trying to create entrepreneurs."
For the past month, in an intensive on-site learning programme at KAUST, each team has developed their business model, identified specific user needs, defined a target audience, and built and tested a prototype. "I came in with zero business background. And now I have a great foundation," said Maan Bajnaid, Product Manager at Ranam. "We've learned that there are no rules and with the right tools you can do anything."
Each pitch showcased the hard work of the month's efforts with clearly defined problem statements, solutions, market share and competitor analyses, revenue forecasts, and milestones. Only 15 teams made it through to the next stage of the accelerator program where they will spend the next six months transforming their idea into viable businesses out of a shared co-working space in Jeddah.
"The teams covered a lot of progress in a short period of time. This progress is a result of collective efforts from all team members of KASUT Entrepreneurship Center," said Hattan Ahmed, Entrepreneurship Collaboration Manager. "The collaboration between 9/10ths and KAUST is a fruitful collaboration that is making a real impact into the Saudi startup scene."
The 9/10ths Accelerator programme will open applications for the fourth cohort in early 2018.