Title:
Space entrepreneurs join virtual Space Academy Rome 2020
First image: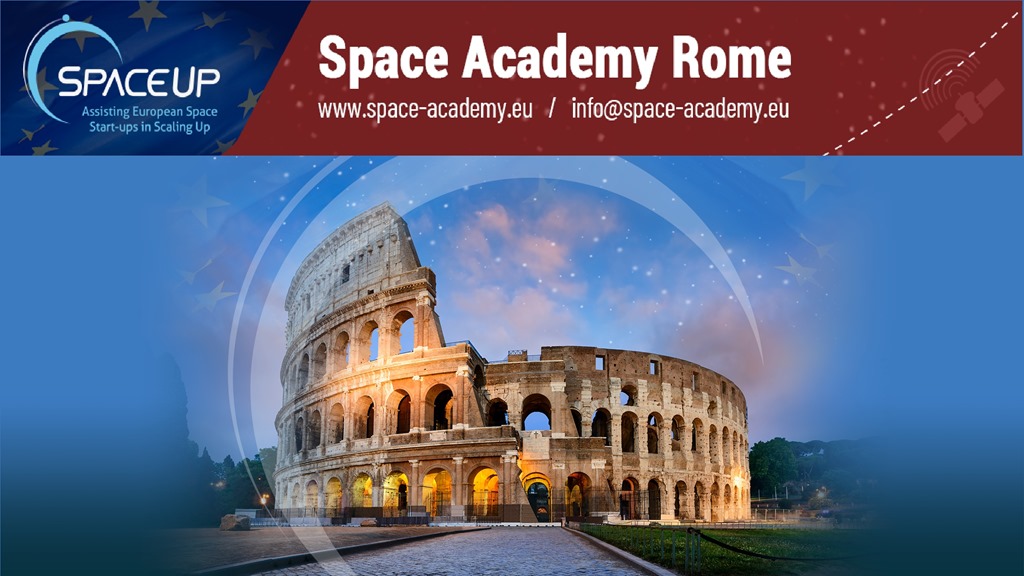 Text:
The SpaceUp project recently held a virtual Space Academy which allowed companies to meet and interact with delegates and experts alike, as well as attending workshops and webinars. IASP is one of the consortium members of the SpaceUp project, which works to establish best practice recommendations for startups and SMEs in the space sector, and aims at giving Europe's innovative startups the opportunity to become world leading companies culminating in six European space academies.
Space Academy Rome took place on 9th – 10th December 2020, the third such event following successful Space Academies in Helsinki and Bremen in 2019. It was organised by IASP and fellow project partners Consorzio di Ricerca Hypatia.
In the light of the Coronavirus pandemic and lockdowns all over Europe, the Space Academy that had been scheduled for Seville was merged with the Space Academy Rome allowing 10 additional spaces to be created for startups to access personalised services provided by the SpaceUp experts.
The Space Academy Rome took place on a digital platform over two days, and welcomed a total of 208 participants (including startups, experts, and investors) from 41 countries.
During the Space Academy, the 20 selected companies were divided into two groups and each of them attended a full day of one-to-one meetings with experts on key topics such as business development, IPR, funding and more, building on the 4 personalised reports on business model design, intellectual property rights, access to finance and human resources that they had already received. They were also invited to join other space tech entrepreneurs in intensive workshops on topics such as business plan development, crowdfunding, funding schemes with ESA, Artificial Intelligence, becoming investment ready and technology transfer.
The Space Academy was held back-to-back with the New Space Economy Forum on 11th-12th December, which welcomed hundreds of participants and where technical sessions focused on the potential of New Space in various sectors such as health, industry, agriculture and economy. Others discussed the challenges companies face in getting funding and how to best address them, the vision for the next generation of 'New Space' from 6 UN regions, and the Italian space sector and the opportunities it offers. SpaceUp hosted a successful webinar embedded in the NSE forum, focusing on Finance for Space-tech Scaleups.
The selected SpaceUp companies were given the chance to enter a pitch competition sponsored by E. Amaldi Foundation and the Italian Space Agency. Neutron Start Systems UG won best ScaleUp and Picosats won the prize for best StartUp.
The next Space Academy will be in Paris, France, on 8th – 9th March. The call for applications for startups and entrepreneurs is open until the 7th of January. https://apply.space-academy.eu/calls/space-academy-paris/.