Title:
Sustainable mobility in Gothenburg
First image: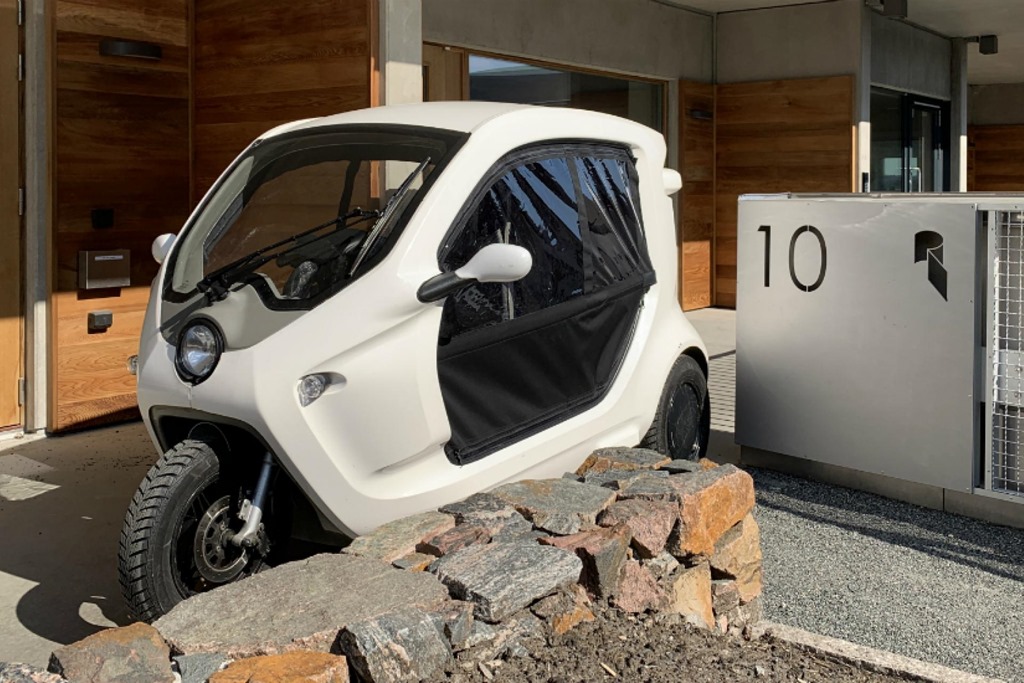 Text:
The residents of a Gothenburg neighbourhood can now get around in a Zbee, a light electric vehicle that is a mix between a bike and a car, in a project supported by Johanneberg Science Park.
The new Viva neighbourhood is being built without residential parking spaces and instead offers new mobility solutions in a five-month pilot that began in May. It has been a prerequisite right from the start of the project that it is accommodation without owned cars, but that there should be other mobility solutions that reduce the need for a personal car. There will be four "ordinary" electric cars in the vehicle pool as well as five electric bikes and four electric cargo bicycles.
A Zbee is optimized for shorter trips in cities and a unique alternative between bike and car. The introduction of Zbee, together with bicycles and cars, provides a new pool of vehicles that covers all needs from short trips to the shops to long trips to the countryside.
The vehicles are booked through the digital mobility service EC2B, which is developed within the IRIS Lighthouse project. The EC2B service aims at making it easier for people to combine different modes of transport, such as bicycle, car pool and public transport. In the IRIS project, which Johanneberg Science Park coordinates on behalf of the city of Gothenburg, solutions are tested and developed in three Lighthouse cities of Gothenburg, Utrecht and Nice, and then replicated in other cities within and beyond the project.
The development of mobility services is part of the research within Positive Footprint Housing, interdisciplinary research into innovative sustainable housing and urban development. The work will result in increased environmental, social and economic sustainability where ideas will receive their first practical application in the Viva neighbourhood. Viva is also the home of other sustainable mobility ideas such as storing solar energy in electric bus batteries from the vehicles on the city's route 55 that connects Johanneberg Science Park with fellow IASP member Lindholmen Science Park, which we wrote about last month in the IASP news.
The project was initiated by the Riksbyggen housing association in collaboration with Johanneberg Science Park, Chalmers, University of Gothenburg, Göteborg Energi, Gothenburg City and RISE.
To learn more about the work of Johanneberg Science Park, please visit www.johannebergsciencepark.com.