Title:
Women in IASP holds gender equality webinar
First image: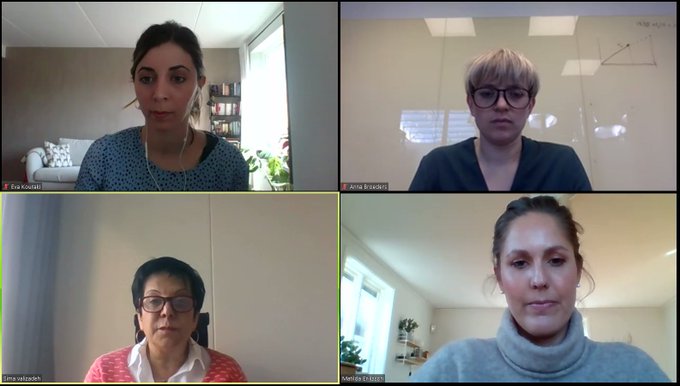 Text:
Members of the Women in IASP subnetwork participated in a webinar on April 6 where they discussed gender equality in science parks.
Moderated by Women in IASP coordinator Eva Kouraki (Johanneberg Science Park, Sweden) the webinar focused on the Swedish context, with speakers from Sandbacka Science Park, Linköping Science Park and Västerås Science Park sharing their experiences.
Sima Valizadeh, Additive Manufacturing Technology & Business Development Director at Sandbacka Science Park, examined women's empowerment and gender equality in the Fourth Industrial Revolution, looking at the history of the industrial revolution, the skills gap, the value of diversity and the challenges and opportunities for women in traditionally male dominated industries.
Encouraging girls to take up STEM and ICT careers was the focus for Anna Broeders, Community & Employer Branding Manager at Linköping Science Park. She explored the challenge of talent attraction, the the biggest challenge for many companies today. The goal at Linköping is that their companies should have it easier to recruit than others, and she shared details of how they achieve this through community building activities, and especially their summer coding camp that always makes sure to have a 50/50 gender balance. All primary aged children report an interest in technology, but interest from girls drops dramatically among teenagers: participation in the Camp allows them to find a role model and keep motivated.
Entrepreneurship was put under the microscope by Matilda Eriksson, Project Manager at Västerås Science Park and PhD candidate at Stockholm University, whose research explores the female spouses of male entrepreneurs, unpacking some of the challenges and stereotypes about the figure of the entrepreneur and the family support systems they depend on.
Women in IASP is a subnetwork which helps increase the visibility of women in our industry. It brings together the knowledge-base of female science park professionals, and shares success stories for the benefit of all our members. Members of the subnetwork help each other achieve their professional goals, and learn from the diverse perspectives of women from all over the world.
To find out more, visit www.iasp.ws/our-members/subnetworks/women-in-iasp.