David Johnston Research + Technology Park
Background information
The David Johnston Research + Technology Park is one of Canada's largest innovation parks. Leveraging the strengths of the University of Waterloo, Canada's Most Innovative University, R+T Park brings together world leading companies, brilliant talent, leading researchers, and pioneering startups in place where ideas become reality.
R+T Park officially opened in 2004 with Sybase (now SAP) as the first tenant, and businesses like OpenText, BlackBerry, NavBlue, and AGFA soon followed. Leading companies continue to choose R+T Park because of the access to globally recognized talent, proximity to world-class research and development, and the density of startup activity. Located on the North Campus of the University of Waterloo, the park is next door to 40,000 students, the world's largest Co-op program, and a community of innovative thinkers.
The park has a strong track record in bringing industry together with research, talent, and startups and in supporting corporate innovation. Working closely with the University of Waterloo and incubator partners, it helps companies develop actionable strategies that can help them act nimble, experiment quickly, and beat the competition. Its Accelerator Centre, ranked among the top five incubators in the world, offers a comprehensive corporate innovation program designed to help companies spin out innovation teams, think differently about customer problems, and validate solutions faster. It has supported many of Waterloo's leading tech companies, such as Miovision, Clearpath, TextNow, Axonify, and Top Hat, and boasts a 92 percent graduate survival rate.
The wider Waterloo Region boasts one of the most innovative and fastest growing entrepreneurial tech ecosystems in the world, with more than 1500 startups, the #1 accelerator in Canada, the largest student incubator in the world, and Canada's most innovative university.
Logo: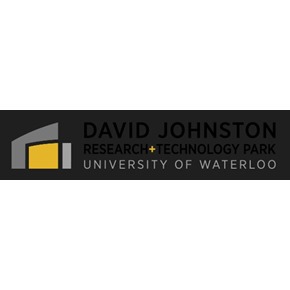 Name

David Johnston Research + Technology Park

Main technology sectors

Name:

Computer Science and Hardwares

Name:

Software Engineering