Here East
Background information
Here East is a fast-growing tech and business hub, located at the heart of London's Olympic Park. Previously the Press and Broadcast Centre for the 2012 London Olympic Games, Here East has been transformed into a community of 3,700 knowledge workers, welcoming innovative startups, scientists and artists to the campus.
The site provides dedicated and versatile space for startups and entrepreneurs to co-exist and collaborate with top global businesses and world-renowned academic institutions to foster innovation and to bring a lasting Olympic legacy to East London. The campus also includes Plexal, an innovation centre and startup community addressing the biggest challenges facing society.
The Here East cluster of creative businesses includes resident companies such as such as Studio Wayne McGregor, MATCHESFASHION.com and The Trampery on the Gantry, 21 studios for artists and designers.
Drawing on its sporting legacy, Here East is also set to become the first ever esports hub in the UK, bringing together top esports companies with world class talent. Sporting giants BT Sports are joined on site by Sports Interactive - makers of the hugely successful Football Manager - and Bidstack. This year, Staffordshire University brought their specialist eSports hub Digital Institute London to the site, offering training for the next generation of eSports managers, shoutcasters and broadcasters, and hosting esports competitions.
Be it supporting local businesses, bettering access to education, or planting urban orchards, we aim to be one of the capital's most An ambitious urban regeneration project, Here East has introduced thousands of new skilled jobs and built up a new cultural heartland in East London. It works closely with the local community, hosting regular community coffee mornings and lunch-and-learn events as well as practical workshops and networking events offering career insight and experience to young entrepreneurs.
Logo: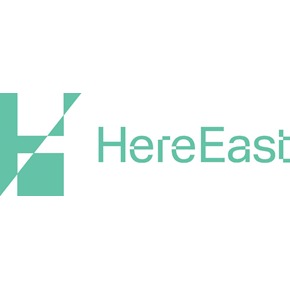 Location

London, United Kingdom