Heading:
Kazan Startup Weekend raised 12 million rubles for prospective startups
Publication date - real:
20-12-2017
User info - details - for blog detail layout:
First image: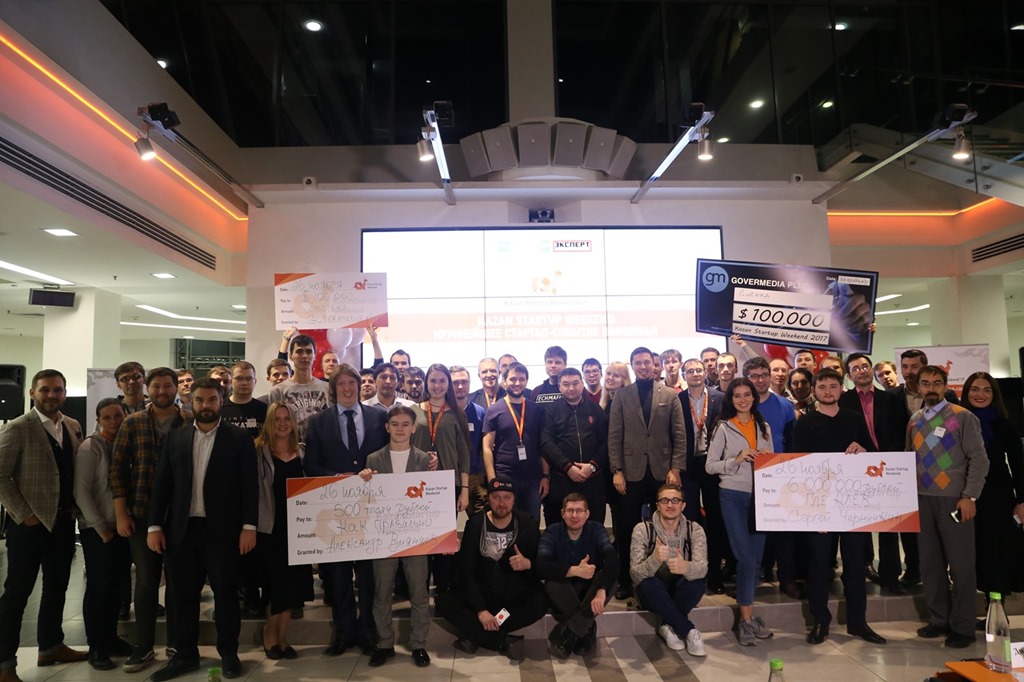 Long text:
On November 24–26, IT Park hosted one of the most anticipated annual events in the sphere of technological entrepreneurship of Russia — Kazan Startup Weekend 2017 (KSW).
For the last four years Kazan Startup Weekend has brought together the most active representatives of the technological and creative communities at a single event to introduce them to the latest innovations in the global startup culture, to exchange information and to launch IT projects. More than 1,000 people from all over Russia participated in the event this year.
'We hope that the Kazan Startup Weekend program was valuable for investors, projects, and future entrepreneurs. We are very pleased that we started working with students from schools and universities this year. We see great potential in this. This environment can really help to create new innovative solutions. The family hackathon was also one of the most interesting cases. This is a new format, and we're very happy with the first results we had,' noted IT Park director Anton Grachev. 'I would like to congratulate the startups that got the most of this chance and successfully presented their projects to investors. For many of you, this is not the end of cooperating with experts and investors, and we're waiting to hear great news from you.'
Kazan Startup Weekend lasted for 3 days, and included an official launch of the first Venture Accelerator for schools of the Tatarstan Republic – a joint project with IT Park and venture investor Aleksandr Rumyantsev.
'Our program is a unique opportunity for teenagers to try themselves in IT-entrepreneurship, to explore their skills and abilities,' said Aleksandr Rumyantsev. 'We explain the basic rules, we open a door into business, and our students gain valuable experience and knowledge that can't be found in school books. The results of the Venture Accelerator in other regions show that students quickly pick up the main rules of IT-project development, and some of them manage to make the very first steps in creating startups and even make some initial sales. Although this is completely new for them. And even if they don't become entrepreneurs, this experience will surely help them in their adult life.'
The second day of Kazan Startup Weekend started with the official opening ceremony by a special guest – the Deputy Prime Minister – the Minister of ICT of the Republic of Tatarstan Roman Shaykhutdinov.
'The main idea of this event is to develop breakthrough ideas that can bring great value for the economy, society, and the state, as well as to help young teams to attract investments, experts, protection for their ideas, which will eventually influence the creation of new companies and businesses. Next year, during the anniversary Startup Weekend, I suggested to organize a hackathon-session with the prize of a corresponding grant from the Republic of Tatarstan that will help to create business ideas related to electronic services for citizens,' said Roman Shaykhutdinov.
Several agreements on cooperation were signed over the weekend – between the IT Park and AD.ru venture fund, venture investor Aleksandr Rumyantsev and Volga-Vyatka branch of Sberbank.
'For 6 years, we've been helping startups to develop their businesses in our incubator. Now, we would like to try to focus on the needs of the market and large corporations. This will help us to understand who we are creating our startups for, and startups will understand that after business incubation they will be welcomed on the market, and it will be easier for them to integrate with the enterprises,' said the Head of IT Park Business Incubator Sayar Sabirov.
'We are going to develop B2C projects together with the IT Park that could be valuable for all of us, for customers, and that would satisfy our basic needs,' added Oleg Dronov, the Director of the AD.ru venture fund.
One of the most exciting parts of the event was Russia's first Battle of Business Incubators. Six business incubators battled on a real fight ring and presented their features, potential, and achievements to a panel of judges and the audience. The atmosphere of a real battle was created by Kazan freestylers Sergey Grom and Arny. After the battle, the Balakov Business Incubator (Saratov Region) was awarded the title of 'Russia's Best Business Incubator'. The People's Choice Award went to the Moscow office of the French NUMA Accelerator.
The third and last day started with the Cup of professional hardware and software developers 'Developer Choice' sponsored by Innocore. Each team presented their innovative solution in Internet of Things to the panel of judges. The competition was won by the project 'Smart street lighting management' from Robert Yegorov; 2nd place and the People's Choice Award went to the 'AR-monitoring' project (the system for online monitoring patient health using augmented reality goggles) by Aleksey Grishin and his team, and 3rd place went to the 'Nautilus' project (marine standalone floating station) from Dmitry Parshkov.
Startups with success on the Russian market and now plan to compete the internationally has were able to participate in the 'Startup vs Global Market' panel session.
Teams who have already entered global markets also shared their experience: the founder of the Flashsafe Alexey Churkin motivated the audience to try the market even on their own, without waiting for funding, just as he did last year while entering the US market. Natalya Podkina, co-founder of the REG.FM service, went through an accelerator on the European market – she was the part of the Bootcamp 3 program Dublin, and pointed out the main obstacles that projects can face while expanding abroad.
During all three days of the Startup Weekend, there was also an interactive zone with an engaging educational program for all visitors. Leading experts from the IT industry, investors, and representatives from leading enterprises held individual meetings with startups, and during a round table 'The Role of technoparks and business accelerators in the development of corporate innovations'. Experts in game design, PM, VR/AR, PR, and SMM held workshops; and invited speakers shared their secrets on how to get to global markets for startups.
As the final part of Kazan Startup Weekend was Demo Day, where 20 of the strongest startups presented their projects to industry partners, venture funds, and business angels. Many experts visited Demo Day to evaluate the startups, including representatives from KamaFlow, Starta Capital, IIDF, IVF RT, 12BF.com, AD.ru, iDealMachine, Govermedia Plus, StartBase, AK BARS Bank, Sberbank, as well as business angel Marat Bikmullin and venture investors: Aleksandr Rumyantsev, Maksim Vasilenko, Anton Mazhirin, and others.
Over the course of the weekend, presentations and individual meetings with investors led to deals amounting to more than 12 million rubles.
'These are not the first investments into our project, I have already received investment from Aleksandr Rumyantsev at Skolkovo. Now, we have a site, and we are planning to promote it with this money, in order to attract 20,000 users, and to develop a mobile app,' added the 16-year old creator of the project 'What's the right answer' Azat Khasanshin. 'Overall, I want to show on my example that everyone can launch a successful startup, even at 16 years old. To do this, you need a great desire to achieve it, and we have great support here in Tatarstan for the rest of it.'
Comments
Comments:
This email is for internal purposes and will not be shown

Comment

A great piece that sheds much needed light on The Country's First Ever StartUp Accelerator Program From X-Byte Enterprise Solutions that help startups to take their business to a whole new level. Sometimes it's not easy to build a startup at our own or without any proper guidance, So Get Mentored By The Best On Our Exclusive Startup Accelerator Program.Through the Tech Accelerator Program, you get the experience and expertise of our in-house industry veterans. You get all the essential knowledge you require in starting and running a successful tech business that you only gain after being hands on with your company for years. Startup Accelerator Program is built by xbyte enterprise solution to boost the entrepreneurship of the nation. We are open to up to 25 startups to teach, guide, assist, mentor and share everything we know about running a successful business in this current day and age.
Pitch your startup ideas to enroll for the Tech Accelerator Program here

https://www.xbytesolutions.com/startup-accelerator-program.php

Know more: <a href=https://www.xbytesolutions.com/startup-accelerator-program.php
><b><i>Startup Accelerator Program </a></b></i>