Heading:
Connecting young people to the world of technology
Publication date - real:
02-10-2018
User info - details - for blog detail layout:
First image: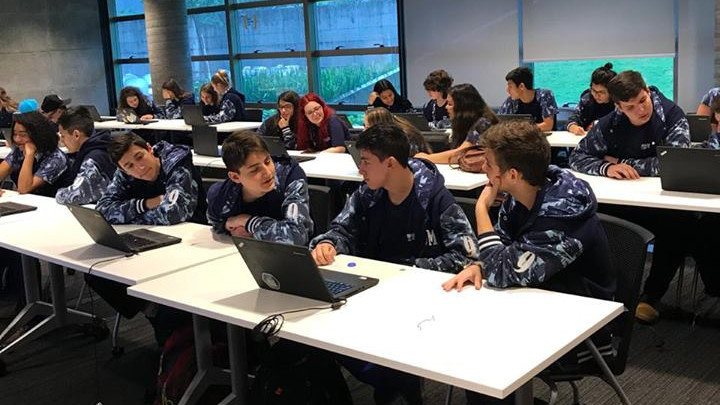 Long text:
Connecting young people to the world of technology since 2011, the Talentos Program, carried out by Tecnosinos, has attracted more and more interest from companies based in the technology park. Thanks to the partnership with the SAP Next-Gen for Young Thinkers project, the program recently offered guided tours and programming workshops to students from the ninth year of Divino Mestre School, from São Leopoldo, inside the German multinational's headquarters at the park.
SAP was the first company in the technologly park to join forces with the Talentos Program. According to Delmara Bohrer, who led the project, this was the beginning of a major movement within Tecnosinos. "Companies interested in offering tours and workshops to students are always welcome," she affirms. "The students came out from this experience very motivated, also because good timing: next year, many of them will start technical courses to qualify themselves and some are already seeking opportunities in our companies," she concludes.
According to Arthur Proença, who is responsible for SAP Next-Gen operations in São Leopoldo, the initiative is aligned with the UN's global objectives. "SAP Next-Gen is a purpose-driven innovation community and platform for SAP's more than 388,000 customers in 25 industry sectors within more than 180 countries. The platform leverages more than 3,500 educational institutions in 113 countries, working alongside startups, technology parks, accelerators and ecosystem feeders in more than 100 SAP Next-Gen hubs around the world," he says.
Anyone interested in participating can get in touch by email at delmaras@unisinos.br.
There are no comments