Title:
Dalarna Science Park wins Strategigram learning visit
First image: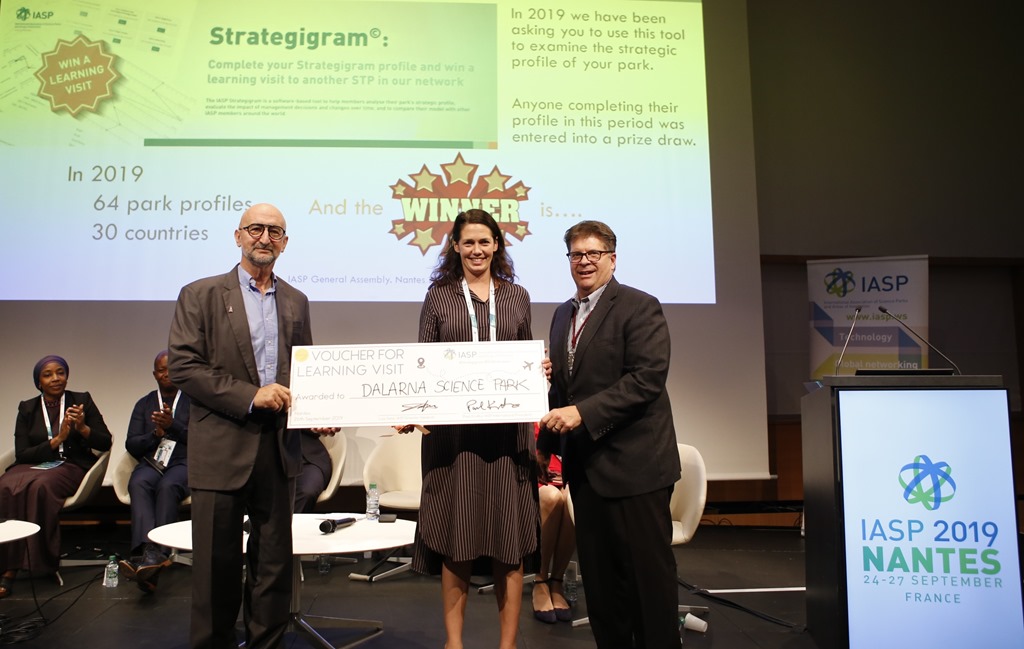 Text:
Another one of the highlights from our recent World Conference in Nantes was the prize draw to select the winner of the Strategigram learning visit!
The Strategigram is IASP's software-based tool that allows IASP members to visualise and analyse their park's strategic profile, helping science park professionals to understand how management decisions can affect their profile. They can also use it to compare their STP with others across the world, providing an international benchmark of their strategic model. It doesn't measure performance, but it helps managers to discover and analyse the features of their park's model.
The software allows practitioners to examine key factors such as their degree of specialisation, location, position in the technology stream, and then compare against other STPs as well as to track the historical evolution of their own strategy.
To help IASP members to get the most out of the tool, IASP offered any member who completed their profile in 2019 the chance to win a learning visit to another IASP member anywhere in the world. 64 parks from 6 continents entered the prize draw, and during the IASP General Assembly at IASP Nantes, Director General Luis Sanz announced the winner, which is…Dalarna Science Park, Sweden!
Congratulations to Dalarna Science Park, led by Sture Ericsson, and to Elin Holst Granlund, Head of Development and Cooperation, who collected the cheque on behalf of the park.

Luis Sanz, the creator of this tool, said: "It is so great to see that the Strategigram is not just a tool to have an overview of one's own strategic model, but also a tool to stimulate meaningful benchmarking and collaboration between different science parks."

Dalarna Science Park's learning visit won't just be an opportunity for them to learn from another global science park, but for all IASP members: they will be planning and sharing details of their trip with the IASP team, who will keep you updated.
They might choose to visit a park whose model is similar to theirs, to learn from their best practice and compare experiences, or they might prefer an STP with a model they are interested in moving towards. Watch this space to find out more, and don't forget to complete your Strategigram profile too.