Title:
European Commission event on science park data collection
First image: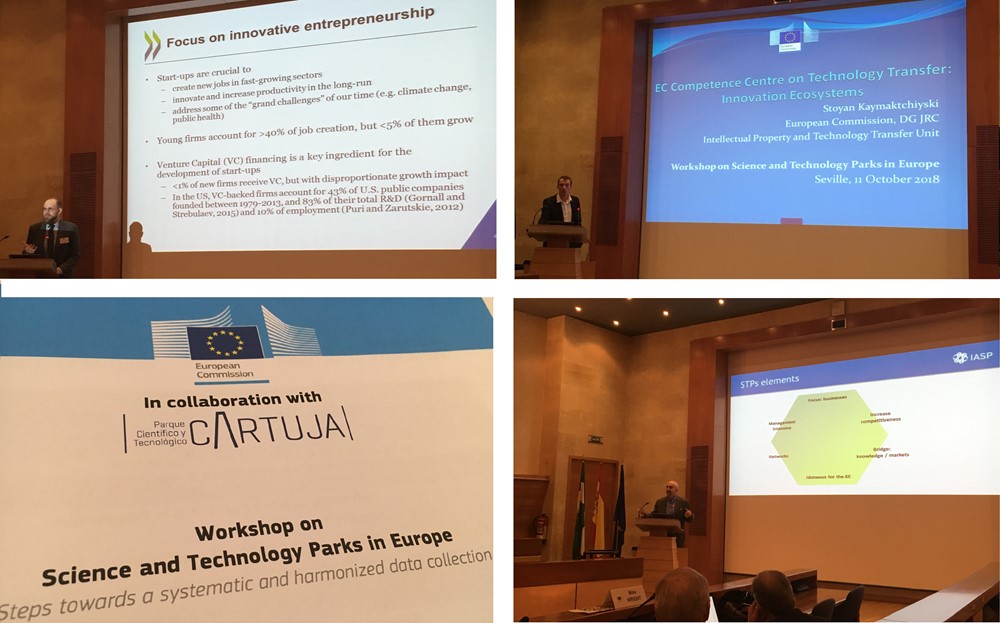 Text:
IASP recently joined the European Commission Joint Research Centre's Seville workshop examining how to harmonise the collection of data on science parks.
Organised in collaboration with IASP member PCT Cartuja, Seville, the workshop explored ways to systematically collect information on public and private organizations that support activities in STPs, from incubation to startup and scaleup, and collaborations with centres of knowledge creation. With a focus on presenting evidence of the impact of STPs on regional development, experts explored ways to raise awareness of the importance of systematic data collection and analysis.
Academics and EU officials shared their research data findings on how STPs support entrepreneurship, help ecosystems to flourish, and support regional development, including an overview of existing studies and indications for future research. IASP Director General Luis Sanz opened an STP practitioner session, where IASP members APTE (The Spanish Association of Science Parks), SISP (Swedish Incubators & Science Parks) and Ljubljana Science Park (Slovenia) shared their insights and experiences.
Ideas for potential data collection in the future included systematic collection of data on fiscal identification numbers of companies, universities and university spin-offs, which would enable analysis on the impact of STPs on entrepreneurship, effectiveness of technology transfer, and regional economic development to be carried out. JRC showed great interest in the IASP methodology for evaluating the impact of STPs which is currently being developed by the IASP Advisory Council.