Title:
IASP's global Board meets online
First image: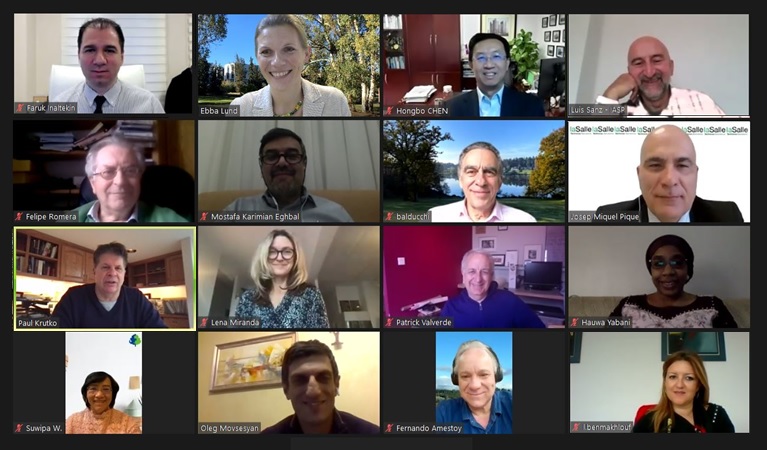 Text:
IASP's full international board of directors met online for a 2-day meeting on February 3-4 under International Chairman Paul Krutko (Ann Arbor SPARK, USA), bringing together board members from 14 countries to discuss the association's strategy over the next 12 months and beyond.
Normally an opportunity for global board members to meet in person at IASP's headquarters at Malaga Tech Park, Spain, this year the meeting went virtual, just like IASP's successful world conference in December.
IASP CEO Ebba said: "2020 has been an extraordinary year, and the global perspective of our expert board is especially valuable as IASP has pivoted to find new ways to support our members and deliver quality events. I am proud of the way our association has risen to the challenges of the last year, to continue supporting areas of innovation and science parks around the world as they continue to support their companies."
A key point on the agenda was plans for IASP's virtual journey back to in person events in 2022, with online encounters and networking opportunities as we prepare to meet in person in Seville, Spain, in September 2022, while our 2023 World Conference will take place in Silicon Valley, USA.
And of course, in 2021 IASP will provide members with another great virtual event, allowing them to come together and connect at the touch of a button! It follows the success of IASP Virtual in December 2020, which gathered delegates from 61 countries and 120 international speakers, with new records set for impressions on social media and visits to the IASP website highlighting the wider impact of IASP's virtual World Conference in raising the profile of science parks and areas of innovation.
The board also discussed plans for strengthening our knowledge-based services, with a clear global vision, and shared their perspectives on how best to support members during these difficult times. New services are already under preparation, such as an online self assessment tool, online training services, mentoring partnerships and new publications.
The full International Board is made up of a total of 17 members from 14 countries across 5 different continents, all of whom are experts in areas of innovation and science parks: for a full list of IASP Board members, see www.iasp.ws/about-us/board-of-directors.