Title:
IASP representative visits the Consulate General of Hungary in Shanghai
First image: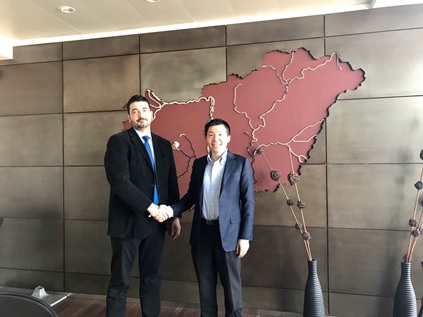 Text:
The IASP Asia Pacific Division President, Haofeng Lai, (Caohejing Hi-tech Park, China) recently met with representatives from Consulate General of Hungary in Shanghai to present the work of IASP and explore potential collaboration opportunites.
During the meeting, Mr. Lai presented Caohejing Hi-tech Park, which has 20 years of experience supporting new and established hi tech enterprises, and is home to over 1200 domestic and overseas hi tech companies primarily in the sectors of IT, new materials, biomedicine & pharmaceuticals, aeronautics, automotives and new energies. It also boasts entrepreneurship support and many service industries such as financial institutions, telecoms, human resources and intellectual property protection.
He also introduced IASP, explaining its structure, mission, and service to Oliver Pal Pinter, the Deputy Consul General, and Elod Tasnady, the Commercial Consul.
Mr. Pinter and Mr. Tasnady expressed their enthusiasm for cooperation with Caohejing and IASP. "There are quite a few science parks in Hungary, and the most famous one is Infopark in Budapest," said Mr. Pinter, "it sounds great to have our science parks join IASP."