Title:
Joint workshop by WANA Division and Asia-Pacific Division held in Shanghai
First image: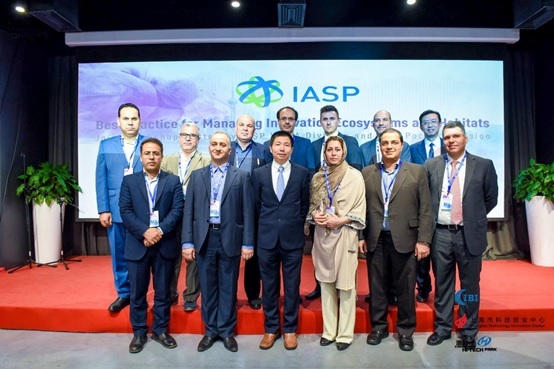 Text:
A joint workshop by the IASP WANA and Asia-Pacific Divisions was held recently at Shanghai Caohejing Hi-tech Park. Under the theme of "Best Practice for Managing Innovation Ecosystems and Habitats", the workshop attracted over a hundred participants from more than 30 countries and regions.
Dr. Ali Motamedzadegan, president of the IASP WANA Division, presented a case study of best practice in place at Mazandaran STP, while participants from Qatar, Croatia, Malaysia and Palestine shared their insights on science park and area of innovation management from their different national perspectives. They were joined by Herbert Chen, Director of IASP China Office, and Mozhgan Yazdianpour from Isfahan Science & Technology Town who made an announcement on IASP 2018 during the coffee break.
As the host, Haofeng Lai, president of IASP Asia Pacific Division and General Manager of Caohejing Hi-tech Park Innovation Center, concluded the workshop, highlighting its achievements. "This gathering of guests from over 30 countries and regions shows that constructing innovation ecosystems and habitats has become a global trend. The networking opportunities offered by the joint workshop enabled STP and AOI managers to learn from each other, bringing more cross-region cooperation opportunities," he commented.
The event was a part of the week-long IBI (International Business Incubation) programme. IBI is designed for business incubation managers, entrepreneurs, governmental officials and other business incubation stakeholders to increase their understanding and know-how of international co-incubation business. Sponsored by Shanghai Technology Innovation Center, it is one of the major training programs of Asian Association of Business Incubation.