Title:
Lakeside opens Robotics Training Center
First image: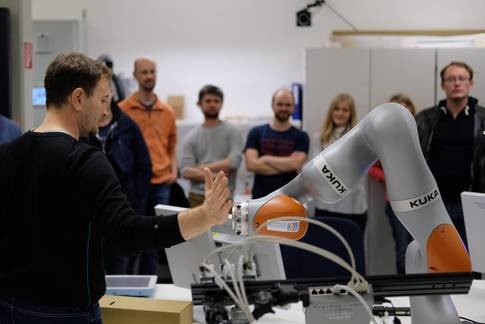 Text:
One of our members from Austria, Lakeside Science and Technology Park, has recently launched a training center providing further education in the robotics sector.
Based in Klagenfurt/Wörthersee, the new the Robotics Training Center (RTC) is run by the Park's Joanneum Research Institute for Robotics and Mechatronics, which focuses on the interface between the digital and the real world, human-robot collaborations and interactions that occur in innovative production processes, as well as the subject of robot safety. Experts at the RTC will share their know-how with course participants, helping them to improve their problem solving and preparing them to meet the future challenges in robotics and stay ahead of their competitors.
The RTC offers a range of training packages, which are customised to meet participants' specific needs and requirements, including competence in decision-making for robot technology, application of modern robot systems, safety in human-robot collaboration, information technology in robotics, machine intelligence and programming.
The centre contributes to Lakeside's strategic aim of fostering innovative education and training formats, and reacting to emerging needs of companies in the fields of digitization and robotics.