Title:
Malaga hosts innovation bootcamp
First image: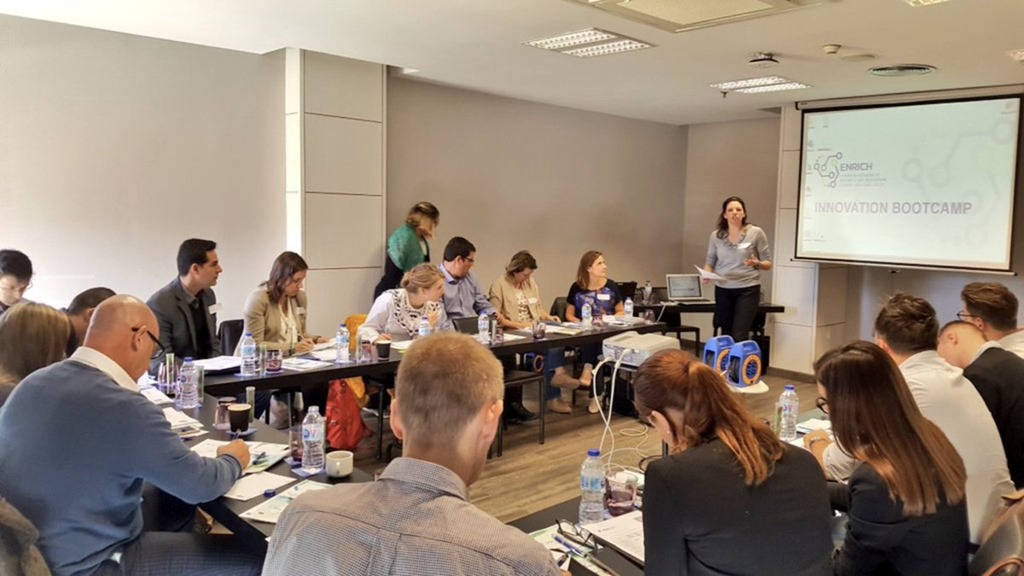 Text:
As a partner in the ENRICH in Brazil Project, IASP recently organised the European round of the Innovation Bootcamp in Málaga, Spain.
ENRICH is the European Network of Research and Innovation Centres and Hubs, an EU project that works to strengthen cooperation in research, innovation, and business between Brazil and Europe by exchanging innovative practices, experience, and knowledge. IASP is one of the consortium members.
The Malaga Bootcamp follows a successful Brazilian edition in Curitba in September, which helped Brazilian tech companies prepare to do business in Europe. In Malaga, European companies and researchers in science and technology joined the bootcamp to learn more about the Brazilian market, strategies for success, marketing and sustainable business modelling, as well as partner finding and legal advice.
The course consisted of a 1.5 day intensive programme which began with lectures from experts on the Brazilian business environment, its context and industry followed by lectures on sustainable business development and planning within the context of Brazil's diverse and multifaceted business landscape.
The second day was dedicated to pitch training sessions, as well as lessons on building strategic partnerships in an interactive and dynamic learning environment lead by members of ENRICH's consortium. Feedback from entrepreneurs about the sessions was very positive, with several attendees going home with networking connections to help advance their businesses.
Members of the ENRICH project also got together for the 3rd consortium meeting following the bootcamp, which focused on assessing progress to date and planning the next steps for the future of the project.
To find out more about ENRICH in Brazil and its ongoing activities, please visit http://brazil.enrichcentres.eu/.