Title:
Partnerships saving lives at Tecnopuc
First image: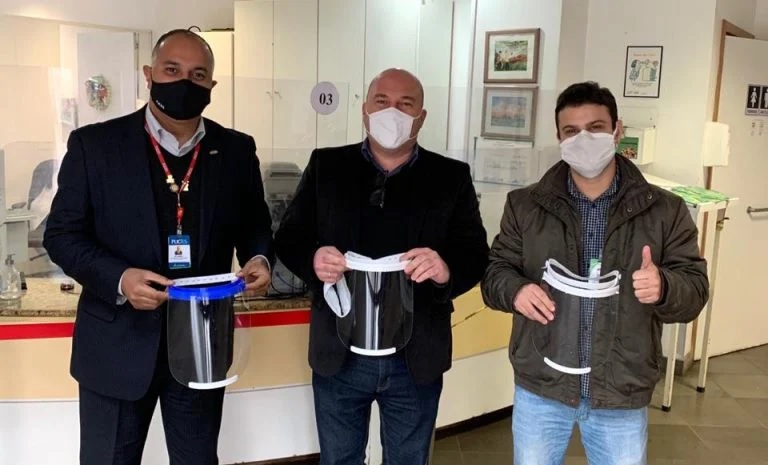 Text:
With the COVID-19 pandemic still ongoing around the world, science parks continue to play a key role supporting their communities and forming partnerships to ensure a supply of essential medical equipment.
One example of such a collaboration is in Puerto Alegre, Brazil, where Tecnopuc and the Instituto Unimed RS are working together to make sure the city's hospitals are supplied with face shields. Since March, Tecnopuc's FabLab, Crialab and Usalab have been open for the development and production of innovative solutions, with the most recent delivery being the face shields to the Cristo Redentor Hospital.
The movement has partners such as Unimed, GRU Project, Taurus, Still, Grendene, Senge, Braskem, Laerdal Medical, BIA, IBASE, and Randon.
The face shields are produced at Tecnopuc Fablab, a 3D printing laboratory managed by the Support Center for Scientific and Technological Development at PUCRS (Ideia), where more than 180 demands from society have been registered, and about 130 institutions served.
"More than 13,500 face masks have already been distributed, in addition to supporting the development of various products related to fighting the pandemic. We are serving several institutions in the social and health areas, such as Hospital São Lucas da PUCRS, Hospital de Pronto Socorro, geriatric homes, among others," commented Flávia Fiorin, Tecnopuc executive responsible for the laboratories.
Partnerships have emerged as the best weapon for saving lives in the pandemic and making a positive impact on society.
Tecnopuc's Innovation Advisor, Luis Humberto Villwock, also says that the partnership between Unimed and PUCRS underlines the importance of cooperation and solidarity. "We are proud of this collaboration, and the solidarity of two large institutions that decided not only to think about the present but also to consider the future, with 3D printers that our students can use to develop their projects. It is clear that adversity can lead to positive change for the future," explained Villwock.
To find out more about Tecnopuc and their collaborations against COVID-19, please visit https://www.pucrs.br/tecnopuc/