Business Incubator Ukrainian Future
Background information
Ukrainian Future Incubator (UF Incubator) was created on the initiative of the Junior Academy of Sciences of Ukraine under the auspices of UNESCO. Its mission is to help the youth to fulfil themselves for their wealth, which is the basis of sustainable economic development. The main goal is to develop and scale the innovative activities of young entrepreneurs-innovators while transforming their business ideas into financially self-sufficient business models.
Services provided include modern educational business programs, search for investments and technical support of start-ups and mentoring from successful and experienced entrepreneurs. Their priority industries are mechanical engineering, electronics and instrument making, materials science, information and telecommunication systems and technologies, ecology and resource conservation, robotics, biotechnology.
UF Incubator presents an international profile by partnering with many other popular institutions and companies such as the United Nations Development Program (UNDP) or Amazon Web Services (AWS).
Logo: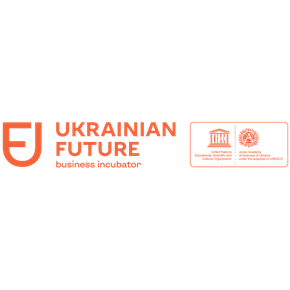 Name

Business Incubator Ukrainian Future

Main technology sectors

Name:

Computer Science and Hardwares

Name:

Software Engineering