Zhongguancun Science Park (Z-Park)
Background information
Zhongguancun Science Park, also known as Z-Park, was established in 1988 as one of the first science parks and first national innovation demonstration centres in China. It focuses on electronic information, bio-medicine, energy and environmental protection, new materials, advanced manufacturing, aerospace engineering, R&D and services.
A hub of intensive scientific and technological innovation resources, it is home to more than 90 institutions of higher learning, including Tsinghua University and Peking University; more than 400 research institutes, such as the Chinese Academy of Sciences and Chinese Academy of Engineering; and approximately 120 laboratories, 90 engineering technology centres, 29 university science and technology parks, and 42 entrepreneurship parks for overseas students. There are over 1,800 equity investment institutions, about 600 social organizations, and around 300 R&D centres of multinational corporations. Moreover, there are about 800 academics, 2.7 million company employees, and more than 40,000 returned overseas students and foreign employees.
Covering an area of 488 square kilometres, Z-Park includes 16 member-parks, and is home to nearly 22,000 high-tech companies, with an average of 90 new businesses being born there each day. Global companies like Lenovo, Baidu, BOE, Didi-global, Xiaomi and Beigene started up from Z-Park, as did over 80 Unicorn companies such as Toutiao, Mggvii and Cambricon. Over 200 branches and R&D centres of the world's Top 500 companies have offices at Zhongguancun Science Park.
In recent years, Z-Park has set up an International Talent Community, International Youth Entrepreneurship Platform, International Featured Innovation Park and Overseas Students Pioneer Park. In order to strengthen international exchanges and cooperation, Z-Park companies have set up overseas liaison offices in countries including the United States, the United Kingdom, Germany, France, Israel and Japan.
Logo: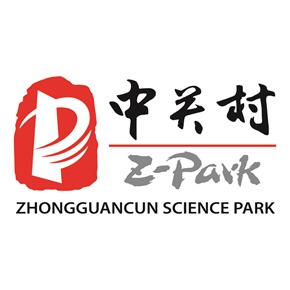 Name

Zhongguancun Science Park (Z-Park)