Heading:
3 questions with Enverque
Publication date - real:
26-04-2023
User info - details - for blog detail layout:
First image: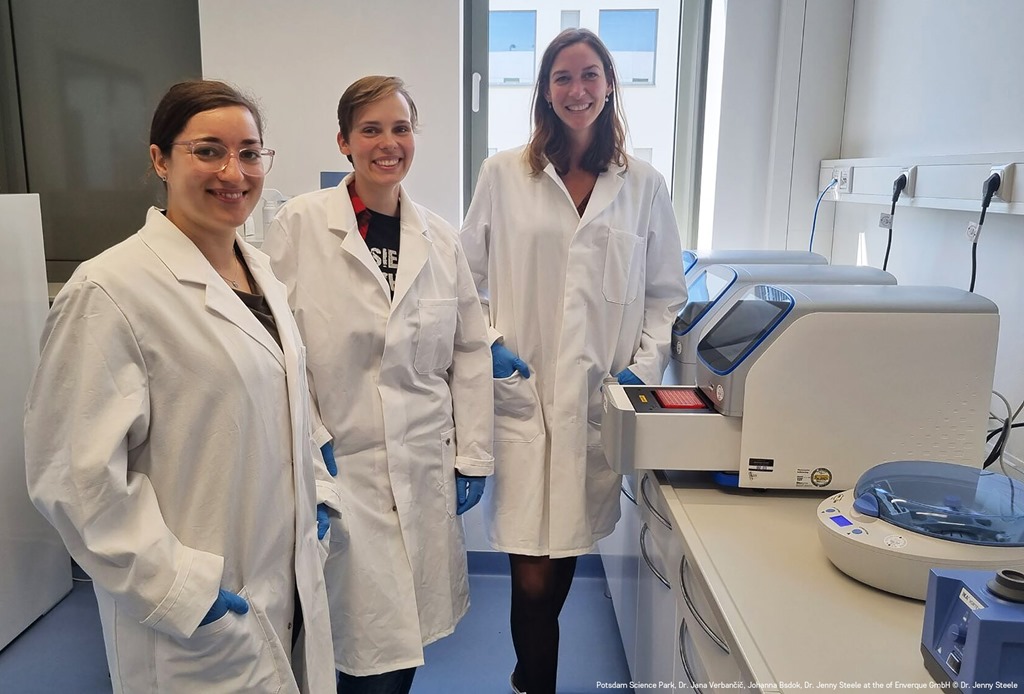 Long text:
Enverque covers every step in the diagnostics process for its customers, from sampling to laboratory testing to evaluation. In this way, the company helps bring about improvements in cancer and HIV treatments, for instance. With the Enver app, Enverque is now seeking to provide a "pocket GP" and thus make a major contribution to improving overall health. In this interview, founder Joscha Hüdepohl speaks about his company's business model and pioneering use of artificial intelligence.

Joscha Hüdepohl, you describe Enverque as a vertically integrated healthcare company. What areas are you active in?
At Enverque, we cover the entire diagnostics chain – from sampling to laboratory testing, to the necessary software behind it. For this reason, Enverque is split into four divisions.
The first is dedicated to the operation of medical laboratories. Our largest laboratory, which is also used for research and development, is located in GO:IN 2 at the Potsdam Science Park. We currently occupy half a floor there with around eight employees, but we want to keep adding to our team and will no doubt also expand our premises. Our other labs are based in CargoCity in Frankfurt and Brazzaville, Congo. In Brazzaville, we are responding to calls from the WHO for support in the area of drug resistance among HIV patients. Also, in January 2023, we'll be opening a lab in Conakry, Guinea, and then another in Athens in the second quarter of the year.
We also devote our efforts to the production of reagents. In Potsdam, we design and develop our own PCR kits, and use our own next-generation sequencing (NGS) kits, which are designed for genome sequencing. We use these for things such as SARS-CoV-2 sequencing on behalf of laboratories that are unable to implement NGS themselves. We also use NGS in oncology in order to identify tumor cells, and are making initial inroads into the subject of HIV.
In our third division – biotechnology – we are building an immune repertoire profile with our subsidiary WeDiag. This is a large, AI-assisted database which we are using to help us develop various biotechnology programs. Using this, we enable improvements in patient monitoring following organ transplants, for example. We take blood samples from transplant recipients to see how their immune systems react to the new organs. This early warning mechanism is decisive mainly in situations where a transplant doesn't have the desired effect and perhaps the body rejects the new organ. In the past, doctors were thankfully able to save the patient in such situations, but not the organ. This is obviously a problem considering the already short supply of suitable donor organs. Our work provides doctors with a new set of tools that allows them to decide in good time whether to remove the organ – thus saving it so it can be used for a new transplant.
Your fourth division is responsible for digital solutions like your Enver app, with which you are also entering the end customer market. What are you looking to achieve with Enver?
By providing a digital platform that assists our customers in personal health management, Enver enables simple diagnostics at home. Using a home kit, users can test the concentration of Vitamin B12 in their blood, for example. Our flagship store in Berlin's Adlon Hotel and our partner clinics also offer professional blood sampling. Our Potsdam lab then examines the blood sample and returns the results directly to the user via the app.
Additional information in the app shows why B12 is important and what measures users should take to increase their intake of the vitamin. This "pocket diagnostics" produces a fast, reliable and diagnostically conclusive personal health solution. This is especially helpful when you consider that many people are rarely able or willing to make the trip to their GP nowadays. Our home kits will be available online, in health shops and in our flagship store from January.
Enverque uses artificial intelligence in all its divisions. What added value does the technology bring to your business?
Some of our services wouldn't be possible without AI. For example: Thanks to NGS, we can use blood samples from diabetes patients to work out what their immune system is currently occupied with. We can then use this information to draw medically relevant conclusions. We humans aren't capable of this kind of analysis on our own. That's why we implement it with the assistance of AI which, thanks to a large quantity of medical data that our team of data scientists used to train it, has learned to draw such conclusions.
Our Enver app is also AI-assisted. We will likely need another one or two years until we can use it to offer our customers sufficient added value. However, in future we want to use the data, which we collected anonymously with their help, to allow us to better understand what health actually means. We intend to use this to help attending physicians improve general healthcare and develop even more sophisticated solutions.
Joscha Hüdepohl, thank you for speaking with us today.
This blog and the projects carried out by Standortmanagement Golm GmbH at the Potsdam Science Park are funded by the European Regional Development Fund (ERDF) and the Federal State of Brandenburg.
There are no comments