Title:
Announcing the Inspiring Solutions 2017 winners!
First image: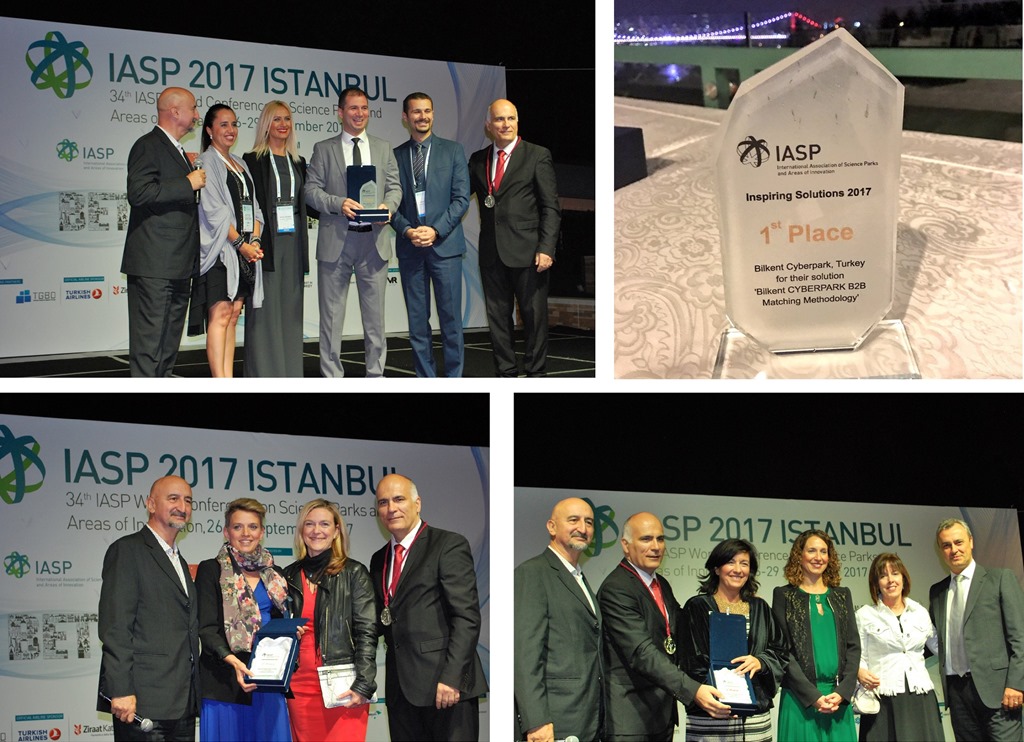 Text:
Braving a few spots of rain at the gala dinner overlooking the Bosphorus, IASP Director General Luis Sanz announced the winners of the IASP Inspiring Solutions Programme 2017.
Chosen by IASP members, the three winners are:
In first place: Bilkent Cyberpark, Turkey, for B2B Matching Methodology
B2B Matching Methodology is a business development programme that facilitates the creation of international partnerships through preparing detailed company profiles for all participants and sharing them in advance to ensure ideal matches. It helps high tech companies to strengthen their global presence and access international markets.
In second place: Mjärdevi Science Park, Sweden, for Coderdojo Summercamp
Coderdojo summer camp inspires children to take up programming, connects young people with innovative companies at Science Park Mjärdevi and creates summer jobs for students as well as developing future talent for companies in the park.
In third place: Bizkaia Science and Technology Park, Spain, for A challenge for the park
A challenge for the park is an open Innovation approach to improving Bizkaia Technology Park, where resident companies and individuals submit ideas. It provides insight into companies' needs and fosters collaboration and networking within the park.
Inspiring Solutions is IASP's knowledge sharing initiative which gives visibility to innovative ideas in science park and area of innovation management, builds up a global library of best practices and seeks to inspire other members. This year we received a total of 27 entries from across the world, from which an expert panel selected 10 finalists. IASP members then voted for their three favourites.
Full details of the three winning solutions, as well as all the rest of the finalists, are available at www.iaspinspiringsolutions.com.
Inspiring Solutions 2018 will be launched soon, so watch this space and get your bright ideas ready!