Title:
Hundreds of innovative companies from IASP members share COVID-19 solutions
First image: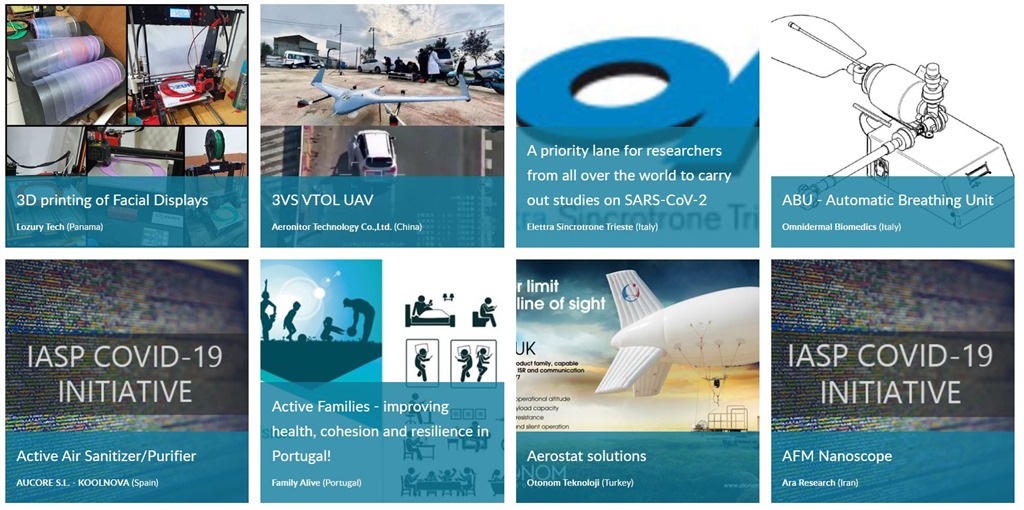 Text:
IASP's new COVID-19 platform is already showcasing over 200 solutions from innovative companies in 25 countries around the world.
All based in IASP member STPs or AOIs, or closely connected to them, researchers, entrepreneurs, startups and SMEs are sharing innovative solutions to combat the impact of the virus on our daily lives, producing vital medical supplies in new ways, and working to develop a vaccine.
Face masks for medical staff and the general public are a shortage item around the world, and many companies have told us about how they have adapted 3D printing and production facilities to allow them to swiftly meet this need.
Other medical solutions include the "CleanBubble®" containment room from salamanderU located in SPoW - Science Parks of Wallonia (Belgium), which can be set up in less than half an hour, composed of flexible walls fixed to an aluminum structure, a vacuum unit fitted with a HEPA filter and a "DosyMist®" decontamination unit, which generates a mist of H2O2.
Measures to reduce infection are also on offer: Money Shower located in Ari Teknokent - Istanbul Technical University's Technopark (Turkey), provide ultraviolet technology to banks and regulatory institutions that are installed in ATM devices to disinfect the money in daily circulation. With a similar goal, Zhongguancun Science Park company Zhen Robotics (China) provides robotic solutions to replace delivery people, cleaners and security staff to construct smart, sustainable and resilient cities, reducing human-to-human contact infection. They have three different products: RoboPony for contactless terminal delivery from convenience stores to users like hospital isolation areas, with ultraviolet disinfection inside the cabin to disinfect items, and which can achieve autonomous access to elevators. RoboWhale cleans the environment in public spaces such as hospitals, from conventional floor cleaning to purifying the air; while RoboBat offers security patrol and control of smart properties, including real-time visual inspection of public spaces.
Other companies are focusing more on the disruption to daily life: XMReality AB, located in Linköping Science Park (Sweden) has shared details of their video calls enhanced with AR with the purpose of guiding a person from a distance to solve technical problems. Many companies now have limited possibilities to send a technician when customers have technical problems. With XMReality Remote Guidance companies can still help their customer or colleagues with some of these issues, the added benefit is that it's super easy to use. Users share the same view with each other and can use hand gestures, pointers and draw-on screen features to effectively guide, almost as if they were there.
IASP members and their companies are warmly invited to submit further solutions!
Browse the full range of solutions at https://www.iasp.ws/covid19.