Title:
Internationalisation event held in TusCity Nanjing
First image: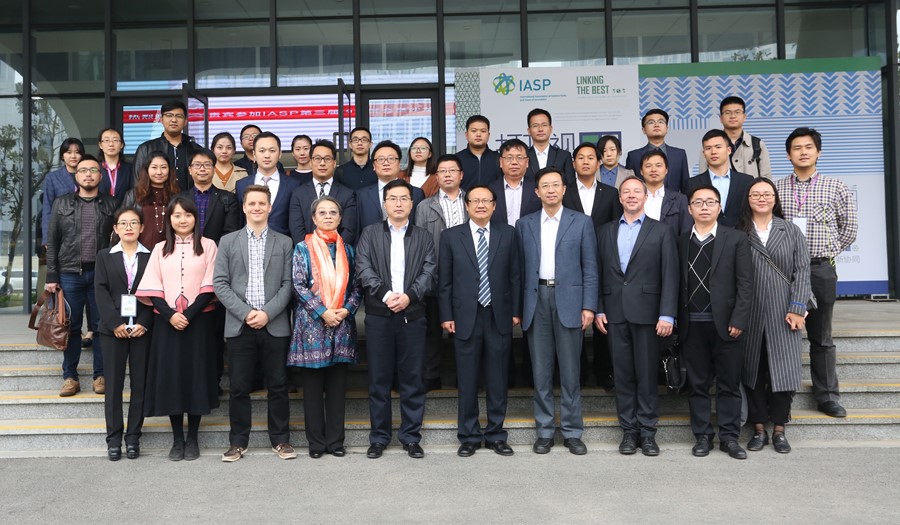 Text:
On November 3rd, 2017 the IASP Chinese Member Salon took place in TusCity Nanjing, with the theme "Broadening the Vision, Linking the World". Jointly hosted by the IASP China Office and member TusCity (Nanjing) Smart Investment and Construction Co., Ltd., it attracted nearly 100 delegates, including domestic and international experts, scholars in areas of innovation, IASP members, incubators, university science parks, as well as investors and entrepreneurs.
Among the speakers was Tan Mo, Director of International Cooperation Division of Ministry of Science and Technology Torch High Technology Industry Development Center (the Torch Center). He described progress that the Torch Center has made in global innovation, and emphasized the importance of internationalisation, international communication and consistency in keeping up with global trends towards international innovation collaborations, and expressing his appreciation for the efforts of IASP China Office in supporting the internationalisation of Chinese STPs and areas of innovation.
Herbert Chen, Director of IASP China Office and COO of TusHoldings also spoke, highlighting the importance for science parks to communicate with international counterparts and link with international networks, encouraging more Chinese make themselves heard on the global stage. The concept that "Regional space is finite, while technological development is infinite" was explored by Yongan Bao, Former Vice Chairman of Nanjing CPPCC and Vice President of Nanjing Alumni Association of Tsinghua University. Haofeng Lai, President of IASP Asia-Pacific Division and CEO of Shanghai Caohejing Hi-tech Park Innovation Center, was also among the speakers, as were Lauri Tammi, Co-founder of Slush China, and the Business Consul of the Australian Consulate-General in Shanghai.
The event wrapped up with a themed discussion moderated by Xiuying Zhang, Senior Advisor at the IASP China Office, focused on how global innovation can facilitate regional economic development, before concluding with unveiling ceremonies of TusPark (Jiangsu) Research Institute of Innovation and Saint-Gobain x TusPark Joint Accelerator.
Members were full of appreciation for the event, and with the support of the China Office, IASP will continue to assist members in China to strengthen their collaboration with overseas science parks and areas of innovation.