Title:
New innovation quarter taking shape in Richardson, Texas
First image: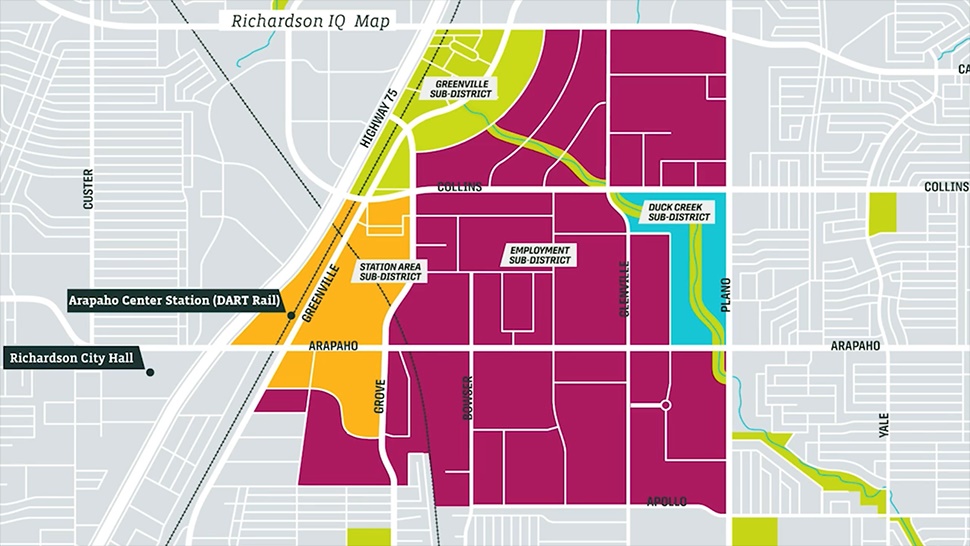 Text:
The city of Richardson, Texas (USA) is working hard to develop a new innovation quarter which will be the home of big ideas and groundbreaking technology in Texas.
The Richardson Innovation Quarter, known as the 'Richardson IQ' or 'The IQ,' is a 1,200-acre area in the heart of the city. In January 2020, local partners unveiled the district's new branding and rezoning for the city's living lab, and officials describe it a place where tech companies large and small have developed both commercial and top-secret telecommunication technologies. With a tagline of "Live. Work. Invent." it builds on the city's reputation as a center for innovation and entrepreneurship.
It will be a higher density development with a variety of uses for an innovation-focused, urban mixed-use environment that is already home to nonprofit makerspace TheLab, a volunteer-run space open to members and offers access to 3D printers, laser cutters, pottery, and other specialized tech equipment
Pointing to Richardson's rich heritage of innovation that dates back to America's Space Race, officials noted The IQ district's continued redevelopment as a location that attracts tech-based companies looking for access to highly educated talent with an attractive community design.
Plans include making the district walkable and bikable, as well as visually unique—green, lively, and active. Active and completed projects in or near The IQ include a new 1.3 mile Duck Creek Trail, 5.5 miles of new bike lanes, and safety tech. The city will utilize rapid flashing beacons at the DART station and new passive detection in the form of thermal cameras—a first-time use in Richardson.
The IQ also provides an opportunity for the city and the university to work more closely together in a new on-site partnership in a new headquarters within the district. They have long had a deeply intertwined, mutually beneficial relationship focused on tech-oriented research, business innovation and training, and now the city will move its Office of Strategic Initiatives on site, while the University of Texas at Dallas will join it there to support the region's startup and entrepreneur community. Construction work on the 27,500-square-foot multi-purpose facility will begin this summer, with an expected opening in February 2022. UT Dallas plans to further stake its physical presence in The IQ with five new research centers and an extension of the university's Venture Development Center.

Bill Sproull, president and CEO of the Richardson Chamber of Commerce and member of the IASP Advisory Council joined city and university representatives in a rundown of other city and district initiatives: you can find out more in this video.