Title:
TusPark visits Kilometro Rosso and Arexpo
First image: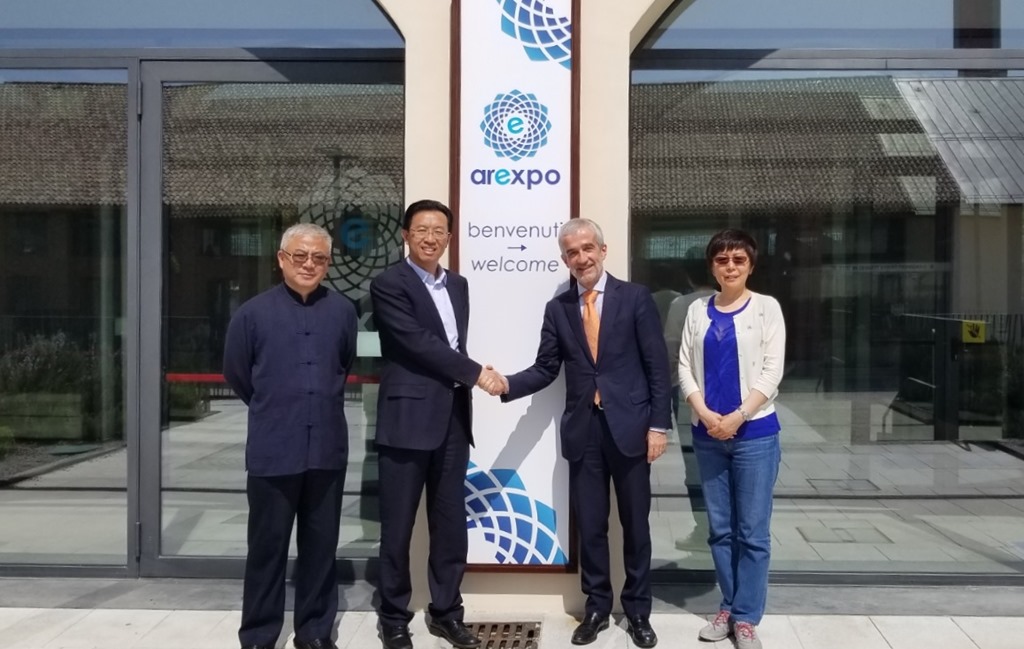 Text:
A delegation from TusPark, China, travelled to Italy recently to meet with representatives of Kilometro Rosso and Arexpo, both in northern Italy.
All three are IASP members, and were connected thanks to an introduction from the IASP team.
Herbert Chen, COO of the operating company of TusPark operating company TusHoldings and Director of the IASP China Office, led the delegation from Beijing to Kilometro Rosso Innovation District, where he was welcomed by Sales and Marketing Director Roberto Marelli. Also joining the trip from China were Ms. Hongping An, Vice President of TusHoldings, Mr. Ming Zang, President of Tus-Business School, Jay Lin, Director of International Cooperation of TusHoldings and Vice General Manager of Tus-TARAROSSA, Italy.
The Kilometro Rosso Innovation District is located in Bergamo, 40 kilometers east of Milan, Italy, and covers an area of 40 acres. Once the final construction phase is complete, its total floor area will reach 400,000 square meters, and it already hosts more than 50 companies in various industries, including smart manufacturing, new materials and industrial automation, and over 1,600 researchers.
In Arexpo S.p.A., Mr. Alberto Mina, Adviser of International Relations, received the Chinese delegation and introduced the Italian government's long-term plan to turn the former Milan World Expo site into a modern science and technology town, including universities, research institutions, laboratories, hospitals and communities, where a planned 80 thousand people will live and work.
In both visits, hosts and visitors introduced their own practical experience in the construction, operation and management of science parks from the Italian and Chinese perspective, and conducted a preliminary discussion on the contents and models of future cooperation with TusHoldings, especially with Tus-TARAROSSA in Italy.