Kilometro Rosso Science Park
Background information
Kilometro Rosso Science Park is a major innovation district in the Lombardy region, Italy. It is regarded as one of the most prestigious in Europe. Kilometro Rosso aims to bring together business and research in the same innovative space through the combination of companies, universities and research centres. Kilometro Rosso follows the Open Innovation paradigm.
This innovation framework aims to develop synergies between different skills and allow accelerated development thereby introducing innovative solutions on the market. To promote the growth of a district of knowledge, innovation and cutting-edge technologies by feeding an ecosystem of innovative companies, scientific institutions and labs, it has over 50 resident companies and over 40 laboratories.
In order to further fulfil its goals, Kilometro Rosso Science Park provides a variety of business support services in the diverse industries that its residents form part of, both directly and through its community of Resident Partners. The Resident Partners are the public and private bodies established within the campus. As a Technology Transfer Agent, Kilometro Rosso is committed to create collaborations amongst scientific research centers and its Resident Partners.
Logo: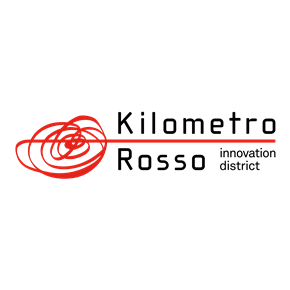 Name

Kilometro Rosso Science Park