Parque de Ciência e Tecnologia Guamá
Background information
The Guamá Science and Technology Park (Guamá STP) is the first technology park to operate in Brazil's Amazon region, with a mission goal to encourage applied research, innovative entrepreneurship, service provision and technology transfer.
The resources invested in the building and consolidation of the STP are from the Pará State Government through the Science, Technology and Technical and Technologic Education Secretary (Sectet) in partnership with the Bank for Economic and Social Development – BNDES. Defined from the Pará State vocations and regional installed skills, the STP's strategic areas of expertise are focused on Biotechnology; Information and Communication Technology (ICT); Energy; Environmental Technology and Mineral Technology.
Services offered to residents include the iConnect network, that brings together independent professionals, research and development laboratories and the industrial sector; exportation training programme PEIEX that increases the international competitiveness of Brazilian companies, and services in innovation management, business planning, search and fundraising, competitive intelligence and support to technology transfer.
In addition to the business incubator for new tech companies, Guamá STP offers a co-working space and 6 advanced research and development laboratories: the Center for the Valorization of Bioactive Compounds of the Amazon; the Laboratory of Biological Engineering; the Laboratory of Vegetable Oils and Derivatives; Sensors and Embedded Systems Laboratory; the Reference Laboratory in Phitosanity and Handling; and the Laboratory for Instrumentation of Agroindustrial Products (Agroind).
Logo: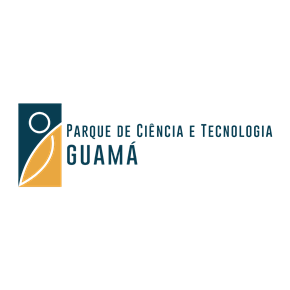 Name

Parque de Ciência e Tecnologia Guamá