Kilometro Rosso Science Park
Background information
Kilometro Rosso is one of the major innovation spaces in Europe, a place where research and business meet, and which acts as a technology transfer agent. Today, the campus hosts 80 resident partners – companies, laboratories, and research centers – with 2,500 employees and researchers.
Kilometro Rosso believes in the open innovation paradigm, which focuses on activating synergies among individuals with different competencies, and chooses an inclusive approach, comprehensive of businesses, universities, geographical territory, and institutions, which work together to enhance their value as individual entities, increasing their competitiveness.
Inaugurated in 2009, Kilometro Rosso and its resident partners represent a landmark on the international research and technology transfer scene, with 31 laboratories, 49 funded R&D projects for over 172 million Euros, 750 patents filed, 70,000 delegates from all over the world attending 200 annual events that promote technological innovation with over 18,000 participants and more than 500,000 registrations per year.
Logo: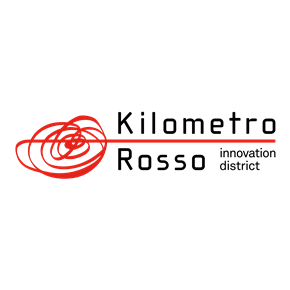 Name

Kilometro Rosso Science Park