Association of Science and Technology Parks of Spain
Logo: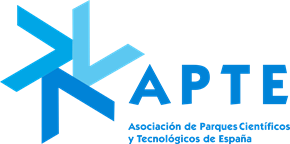 Background information:
The Association of Science and Technology Parks of Spain (APTE) is a non-profit association whose main objective is to collaborate, through empowerment and dissemination of scientific and technological parks, renewal and diversification of productive activity, technological progress and economic development.
It is located in the headquarters of the Technology Park of Andalusia (Malaga) and was created in 1989 by the managers of the first 6 parks that were created in Spain. Since that moment, this association started
Currently, the Association of Science and Technology Parks of Spain has 62 members scattered throughout the Spanish geography. Its mission is to convert science and technology parks into key elements of the Spanish innovation system. To do so, the Association has development an extensive system of networks, each of which has different objectives but with the same common outlook. In this sense, the APTE has a network of experienced parks managers, another which works with professionals involved in technology transfer among these parks and their companies, and another managed by APTE´s office of technology transfer (OTRI) responsible for establishing contacts between the scientific world and business community and which works in close collaboration with professionals in the Parks.
Member category:

Associate

Postal address:

C/ María Curie, 35, Campanillas, Málaga, 29590
Contacts:
Contacts:
Contact type:
Main contact
Contact type:
Second contact