Portuguese Association of Science and Technology Parks
Logo: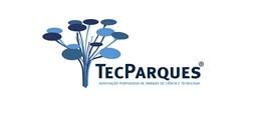 Background information:
Portuguese Association of Science and Technology Parks, also known as TecParques, is an organization that strives to promote and add value to the Portuguese Science and Technology Parks, and to enhance their interaction with other national and foreign organisations related to innovation and knowledge transfer as well as supporting innovation-based companies. Innovation and development are both of this associations' main points of action.
TecParques represent all of the science and technology parks of Portugal. Modernization of the business fabric, expansion of qualified employment opportunities and strengthening the competitiveness of the economy are some of the main objectives of this organization. At the same time, they are designed to serve as an interface between business, scientific and educational systems
This association is also strongly concerned with the expansion of science and technology parks in their region. Throughout its existence, the Portuguese Association of Science and Technology Parks have participated and organized several activities to promote entrepreneurship and Technological Innovation, namely involving international partners, discussing the various themes that are fundamental to the pursuit of its goals. TecParques has been facilitating growth in the region for many years through the provision of a supportive environment for the emergence and support of established and new science and technology parks.
Member category:

Associate

Postal address:

Edificio INOVPOINT N, Rua José Dias Simão, Abrantes, 2200-062

Phone:

+351 21 4226930 / 241330330
Contacts:
Contacts:
Contact type:
Main contact