Heading:
Welcome to IASP Agrifood
Publication date - real:
19-05-2023
User info - details - for blog detail layout:
First image: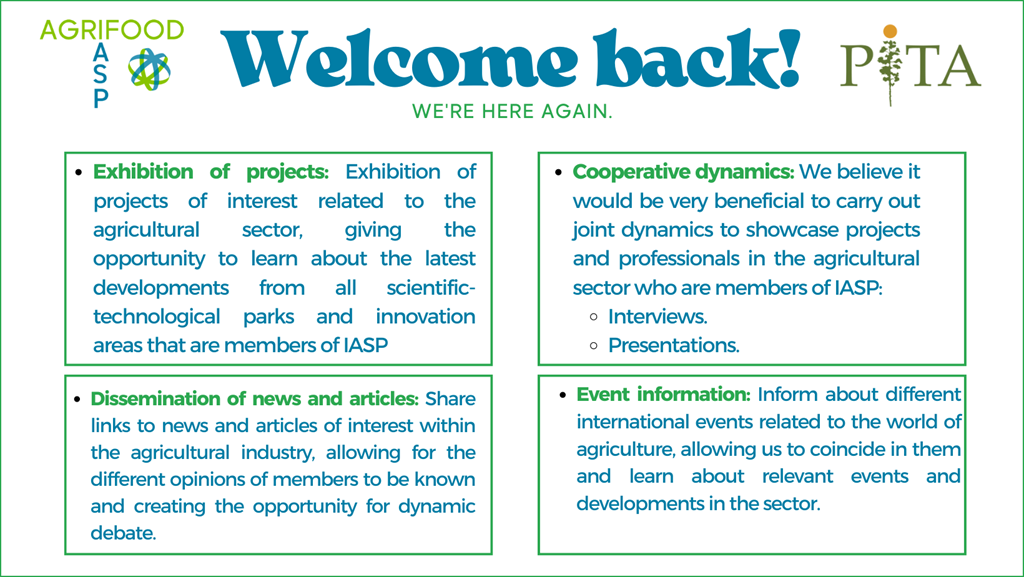 Long text:
Greetings!
My name is Alicia Cañadas, from Science and Technology Park from Almeria, PITA. I am the IASP Agrifood coordinator, the subnetwork focused on the agricultural sector. I wanted to take this opportunity to inform you about IASP Agrifood and invite other members of IASP who are active in the sector to join the group.
At IASP Agrifood, we work to connect innovative and leading companies in the agricultural sector to collaborate and grow together. Our object is to make cooperative dynamics where IASP members in the sector can know each other better, identify collaboration opportunities, as well as participate in projects and events together. We publish twice a week and we will keep you informed about calls, events, news.... You can see in the attached image our dossier with the activities that we are going to carry out.
We want you to take advantage of this opportunity to connect with other leaders in the sector and share your ideas and perspectives. We hope that you join us in this exciting initiative.

If you are interested in joining IASP Agrifood, please contact us at communication@iasp.ws for more information.

There are no comments