Incubadora de Negocios "KALARY"
Background information
Situated within the esteemed Catholic University of Cuenca in Ecuador, Kalary stands as a vibrant business incubator dedicated to cultivating the entrepreneurial spirit among students. Launched in 2022, it offers a sprawling 300 m2 incubation space currently nurturing two groundbreaking projects, predominantly in virtual reality, but with significant interests in fields like neuroscience and artificial intelligence.
Kalary's focus is not restricted to just one domain; it encompasses a diverse spectrum ranging from Information and Communication Technologies to Creative and Cultural Ventures, and even extends to sectors like Bio-entrepreneurship, Agroindustry, and Health. This eclectic approach is complemented by the robust support infrastructure in place. The University's Center for Research, Innovation, and Technology Transfer (CIITT) ensures each venture gains access to unparalleled education, technology, and resources, aligning with the rigorous standards set by SENECYT.
With a vision rooted in the future, Kalary doesn't just aim to produce job seekers but strives to mold students into job creators. By leveraging innovation and the relentless zeal of its young entrepreneurs, Kalary is on a mission to redefine the region's industrial landscape, positioning its alumni at the forefront of tomorrow's industries.
Logo: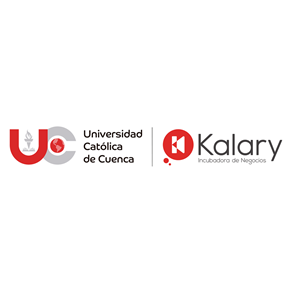 Name

Incubadora de Negocios "KALARY"