Heading:
How high-technology technoparks are organized in Kazan and Naberezhnye Chelny: Russian experience
Publication date - real:
20-11-2017
User info - details - for blog detail layout:
First image: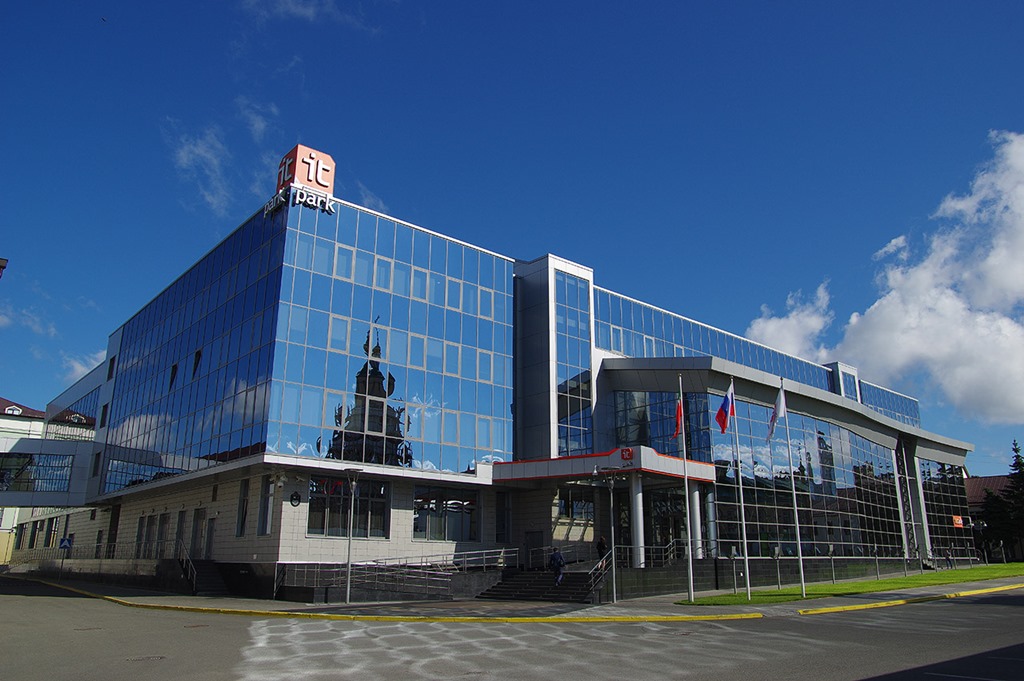 Long text:
The Association of Clusters and Technoparks of Russia summed up the results of the 3rd National Rating of Technoparks of Russia, which presented an assessment of the efficiency of functioning and investment attractiveness of sites for the placement and development of high-tech companies. Among the best technology parks in Russia are the Technopark in the sphere of high technologies "IT-Park" of Kazan and Naberezhnye Chelny.
The IT parks in Kazan and Naberezhnye Chelny represent the first technoparks built as part of a federal program. The one in Kazan opened in 2009. The technopark's complex consists of three buildings: two renovated structures from a former barracks and a modern five-story building.

During the Second World War, the territory of the IT park was used by the military commissariat of the Tatar ASSR. Over 700,000 people went to the front from here, and 350,000 didn't return. This chapter of history is immortalized on the walls of the IT park by a memorial plaque.
Data Center
The technopark has its own data center (data processing center) certified as Tier III in the Uptime Institute's international classification system. There is a total of 1,000 m2 of computer rooms, where it is possible to install up to 300 stacks. The data center has two energy inputs with a capacity of 2.5 MW; active equipment is duplicated according to the N+1 principle. Flux distribution is duplicated: cooling lines, communication channels in the building, and electrical installations. That's why there is no need to switch off the Data Center during maintenance. The infrastructural solutions used allow resources to be provided with an estimated downtime of not more than 1.6 hours per year (fault tolerance is not less than 99.982%).
The Data Center is equipped with biometric access systems, guaranteeing the security of the facility and restricting unauthorized access.
200 companies use the services of the Data Center. Thanks to its high safety standards and the expertise on hand, the Data Center is trusted to host state information systems for federal and regional executive authorities; information systems for commercial, industrial, and banking companies; and federal and regional electronic trading platforms. More than once during major international sports competitions held in Kazan, the capital of Tatarstan, the IT park's Data Center has been used to ensure the uninterrupted operation of the event information systems. Servers, data-storage systems, network equipment, databases, and information-security tools were deployed here during the 27th World Summer Universiade in 2013 and the 16th FINA World Aquatics Championships in 2015.
Residents

The offices of large IT companies are located in the technopark. Among them are giants of the industry like Microsoft, ABBYY LS, Acronis, ICL-KPO BC, FIX, and others. Residents of the IT park implement projects in 60 regions of Russia and 16 countries. As a result of their efficient work, the total revenue of the IT park's residents in 2016 reached 9 billion rubles, while export volume exceeded 400 million.
Among the residents there are many interesting stories of a successful and promising IT company growing out of a small start-up. Take, for example, Avtodoria. It is developing a system for measuring the average speed of vehicles over extended stretches of highway. The company signed a contract with the Government of the Republic of Tatarstan, and its project has already been implemented in 23 regions of Russia. Or Click-Storm, an eSports platform which allows you to create a tournament, play in one, or find a team. Click-Storm has already held over 1,000 online tournaments and six game festivals. 80,000 players are registered on the platform.
Today, many IT companies in Tatarstan dream about becoming a resident of the IT park. After all, it means not only prestige but also ideal conditions and opportunities for effective scientific, technical, and innovative activity. Namely: well-developed infrastructure and modern equipment; involvement in innovation-support programs of the Republic of Tatarstan and the Russian Federation; participation in events held at the IT park, as well as elsewhere in the Republic of Tatarstan and the Russian Federation; assistance in the promotion of residents' products, goods, and services, including competencies both in Russia and abroad.
Despite the fact that all resident offices are ultramodern, here and there you can still find echoes of the past, as, for example, in a loft (see photo below) which was converted into an office.
Business Incubator
In addition to resident offices, there is a Business Incubator on the third floor of the IT park. If the Data Center is the brain of the IT park, then the Business Incubator is its heart. And it has a truly special, youthful atmosphere suited to the generation of promising new ideas.
In order to become a resident of the Business Incubator, a project has to be selected by the expert community. Selection takes place four times a year. When evaluating high-tech projects, experts use different criteria: the feasibility of the business model, the technical feasibility of completing the project in 1–2 years, team availability, the degree of investment attractiveness for external investors, etc.
For a period of one year, the Business Incubator provides start-ups with an experienced mentor and a variety of organizational and consulting services (accounting, legal, marketing, etc.), as well as assistance in attracting investments. Well-established cooperation with 80 venture funds and business angels helps with investment-related issues. By the way, in 6 years, our start-ups have already attracted over 650 million rubles.
The presence of a co-working space in the IT park helps start-ups in the development of their business: some use it only as an additional workplace for employees, while others find new team members or interesting mentors among the co-workers.
IT Hotel
The most interesting floor is the second one. Skybridges passing over the road connect the main building with the buildings of the former barracks, which we have already mentioned. Outside, everything looks very authentic, but inside, there is a modern three-star IT hotel.
You don't have to be a technopark resident to stay at the hotel: anyone can stay there. The hotel consists of 53 rooms of different categories, from economy to suite and studio. The IT hotel is popular since it offers a unique opportunity to stay in the historical center of Kazan and connect with the high-tech world at the same time. 7,000 people from different regions of Russia, as well as numerous representatives from Europe, CIS countries, and Asia stayed at the IT hotel in 2016. In addition, it holds a Guest Review Award and a Quality Certificate from TripAdvisor. Its rating on Booking.com is 8.6.
Conference Service
One more interesting feature of the second floor is that it has a telepresence (videoconference) room, well equipped for making Skype calls to the IT park in Naberezhnye Chelny.
The first floor is an event space. Russia-wide and international conferences, forums, exhibitions, lectures, and many other events are held here. Such companies as Yandex, Google, IBM, Acronis, Microsoft, Cisco, Kaspersky, and others choose us to host their events in Kazan.
IT Academy
In order to attract the attention of young people to in-demand IT professions and prepare a qualified pool of developers and programmers, the IT Academy at the technopark in Naberezhnye Chelny opened in 2014. Two years later, a second academy opened in Kazan. The IT Academy offers young people additional field-specific education designed according to international standards together with the biggest IT companies.
In order to educate the Zuckerbergs of the future, specialized courses for children on Scratch and Java programming, 2D animation, graphic design, computer games, 3D design, multiplication, and robotics have been developed. During school vacations, students can attend iLand general development courses, allowing each of them to feel like a programmer, developer, or artist.
Outsourcing
The IT park is not only a professional community of successful IT companies but also a wide range of services for companies from any sphere. If you need to develop and implement a new IT solution for your business, then you should go to the IT Development Center; if you want to protect your know-how, then the Intellectual Property Center is waiting for you; if you want to attract start-ups to your company, then the Business Incubator will organize a hackathon or an accelerated program especially for you.
The IT park's second site in Naberezhnye Chelny
One more IT park, in Naberezhnye Chelny, opened in 2012. The building it is in once belonged to Kamaz. In the 1980s, there were plans to construct a computing center and administrative building for the truck plant here. Construction was frozen due to a number of reasons, and in five years of construction (from 1989 to 1994), practically nothing but the frame of the building was erected. However, after the building came into the IT park's possession, a nine-story building was constructed in record time, eight months.
The technopark in Naberezhnye Chelny offers a unique ecosystem for successful IT companies operating in the east of Tatarstan. The eastern region of Tatarstan is provided with good industrial and production potential, and the IT park is an universal platform for rendering services to enterprises and companies of the Kamsky economic region, including the Alabuga Special Economic Zone, Kamaz JSC, Sollers JSC, Taneko JSC, Ammony JSC, and others. These companies create steadily growing demand for modern information technology, and the IT park is designed to meet their needs. It is also to help to overcome the dependence of domestic enterprises on foreign commercial software, stimulate the development of Russian information technology in engineering, petrochemistry, and other industries, provide enterprises with next-generation computing resources, strengthen companies' information security, and reduce the time taken to develop and introduce new products to the market.
In addition, the IT park is a managing company of the Information Technology Cluster for Small and Medium Businesses in the Republic of Tatarstan. The main goal of the cluster is to create a focus on dynamic growth and increasing the competitiveness of the regional economy based on the commercialization of IT innovations. Today, the cluster includes 110 IT companies, most of which are located in the east of Tatarstan.
The technopark in Naberezhnye Chelny also has a business incubator, co-working, and a space for holding events.
It doesn't have its own data center or hotel; however, the complex includes the IT House, a complex with 118 apartments for employees and residents of the technopark, located just ten minutes by foot from the main building.
Quantorium
The Quantorium children's technopark, where a new generation of scholars and engineers is being raised from their earliest school years, opened at the Naberezhnye Chelny IT park at the end of 2015.
Everyone can apply for courses at Quantorium. There are courses in following quantums: nanoquantum (laser technology), cosmoquantum, neuroquantum, geoquantum, aviaquantum, autoquantum, cyberquantum (roboquantum), 3D modeling, electronics, IT quantum, and minecraft (creation of modifications in the popular game of the same name). Annually, over 1,700 children take part in workshops and excursions through Quantorium's educational programs.
In 2016, thirty Quantorium students won Russia-wide and international competitions. For instance, young citizens of Naberezhnye Chelny won the ESRI International Conference on Geoinformatics, and three students brought back highly respectable awards from the International Youth Robot Competition in Korea. In 2017, students from Quantorium distinguished themselves 14 times with victories and prize places at Russia-wide and regional competitions.
Innovative Tatarstan begins with us: come and see for yourself how innovations are born in this city with a thousand-year-old history. And remember, thought is material! Welcome!
There are no comments