Heading:
UNOPS opens global innovation centre in Sweden at Ideon Science Park
Publication date - real:
29-11-2018
User info - details - for blog detail layout:
First image: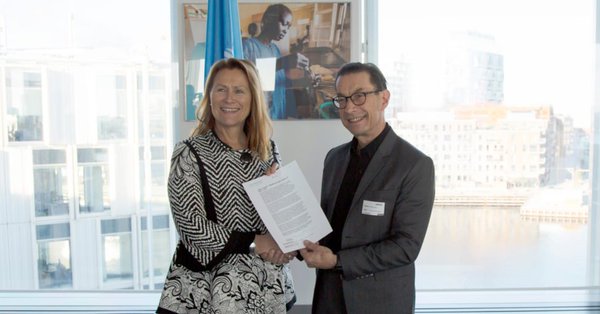 Long text:
UNOPS, the UN Office for Project Services have decided to open a global innovation centre in Sweden and Lund in collaboration with Ideon Science Park. The venture is funded by Vinnova. The new centre is the second science and innovation centre launched by UNOPS this year, following the launch of a similar initiative in Antigua and Barbuda. This is a part of their strategy to reach the global development goals within Agenda 2030.
"The 2030 Agenda aims to create a world that is sustainable, environmentally secure, economically prosperous and inclusive. To achieve the Global Goals we must work together – building new partnerships to innovate and deliver better value for money. The ideas of today are not enough," said Grete Faremo, UNOPS Executive Director.
"This new centre shows our commitment to innovation, and to help nurture better solutions for people in need across the world," said Ms. Faremo.
Ideon and UNOPS have been working over the past year to set up this collaboration and on November 27th 2018, an agreement was signed between UNOPS and Vinnova, where Vinnova will provide funding until 2022. There is a previous signed agreement between UNOPS and Ideon Science Park about the support of the establishment of the innovation centre.

"Vinnova welcomes this initiative. The mission of the centre is well aligned with Vinnova's commitment to supporting the Sustainable Development Goals," said Darja Isaksson, Director General of Vinnova.
Ideas that can change the world

UNOPS chose to establish an innovation centre at Ideon Science Park based on the park's long tradition of developing cutting-edge innovations in Lund. Ideas that truly can and has changed the world. Ideon is also a prime example of private-public partnerships, which is how UNOPS operates and they mean is the best way to truly bring about changes in society.
"We are incredibly proud of this mission," says Mia Rolf, CEO of Ideon Science Park.
"It is a strong message that the UN has chosen our science park and Lund. Innovations from this region have already improved the world and this will give us further global leverage, knowledge and networks to help innovation companies, both within the park and nationally, to continue improving the world. I look forward to national and international collaborations through this ecosystem ", Mia Rolf concludes.
As a part of this process, Ideon Innovation, the incubator at Ideon, have decided to only accept companies who are working towards the global goals.

"For a long time, we have been alarmed by reports about climate change and how the inertia in our current systems makes it difficult to adapt to new conditions. Therefore, it is enormously gratifying that in this venture, there is a broad support for the importance of promptly changing the setup of innovation ecosystems towards generating new solutions linked to the global goals," says Anna Branten, CEO Ideon Innovation.
There are no comments