Heading:
Building an XR community at Technology Park Ljubljana
Publication date - real:
24-03-2020
User info - details - for blog detail layout:
First image: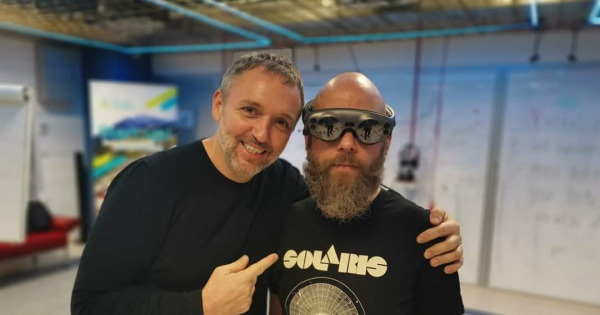 Long text:
Aleš Pevc is an electrical engineer and head of the Technology Park Ljubljana technology team, and he is channelling his love of technology into building an XR community within the park.

Over the past year he has focused on XR community building and he firmly believes in changing the world through virtual and augmented reality. He is preparing a virtual meeting, due to take place at the end of March, and an extended regional Alps-Adriatic XR conference for the autumn, and he's here to tell us more about XR at Ljubljana Technology Park!
What attracted you to your work at Ljubljana Technology Park?
I always wanted to work at Technology Park Ljubljana so that I could combine these entrepreneurial ambitions with some crazy technologies. I have always been driven by the desire to create a community where you can give and give. I am such an entrepreneurial romantic. I am proud that together we can contribute to the development of a more entrepreneurial, innovative and technology-oriented Slovenia.
Why were you attracted by virtual reality?
Because I believe this is one of the key technologies of the future. We are approaching our wildest dreams of connectivity. Augmented and virtual reality will enable us to look away, not click away. In fact, this interweaving of these worlds is at this point, to speak of pure convergence. It will be several years before these worlds merge perfectly and we will find out what can be achieved with this technology and what benefits we can take advantage of.
I believe that technology will make life much easier, especially with artificial intelligence. We can say that technology has freed us from two aspects. Spatially, there will be no restrictions on movement around the world. At the same time, it will free us from hard work. Technology must support and liberate us in this.
Let's get back to XR engineering. Where does it lead?
The technology itself will enable us to free ourselves from various devices, we will free ourselves from physical attachment to space, then we will all be mapped in one space.
Important changes will take place in education and it is difficult to imagine them at this stage. When they become part of the XR curriculum the system will change so much that children really won't be able to wait to learn. We will be able to give back the basic natural learning, the one they have learned by trial and error from an early age.
XR technology will no longer limit us to devices and will eventually be wearable like a lens. Web access will be possible without separate, cumbersome devices. These devices are already experimentally available and will soon become reality.
There is also a big leap forward in e-Health, where TPLJ is also building a strong pillar with the Healthday.si initiative. I see many opportunities to combine these two segments, placing TPLJ alongside real science parks and centers around the world. Recently, Forbes announced the trends in augmented reality, and e-health is one of them.
There is a great potential for virtual reality in the field of tourism. Experiences will become much more authentic through Augmented Reality. In Slovenia the initiative "Tourism for all" is already running for people who for various reasons cannot travel, but through augmented reality they can.
What are the goals of TPLJ with respect to the XR community?
We have just begun to develop the community well. We support each other and help each other. The mere fact that these are groundbreaking beginnings gives me power for the building of the community. Even if we do not know everything yet, we are all members of the ecosystem.
The aim is to continue to make companies more aware of the use of technology and to train experts to pass on the knowledge. As the community grows, I expect it to develop into an official formation, such as a chamber representing the interests of its members, rules, standards, etc.
What motivates you outside Technology Park Ljubljana?
Better world is my motivation. If possible, with the eyes of new technology. Personal reading and cooking. It is true, however, that I longingly wait for the lens so that I can read the recipe and cook at the same time and hence no longer need a phone.
There are no comments