Title:
IASP European Division Workshop, Magdeburg-Barleben 2009
Conference theme
Sustainability of Science and Technology Parks - what it is and how to achieve it!
Notes:

The Workshop will be held in the premises of the Ostfalen Technology Park. Transfers from the Maritim-Hotel Magdeburg will be organized. Seating is limited and admission is secured on a first-come, first-served basis.
Please visit the event website for registration and complete information on the programme of the workshop.
Logos: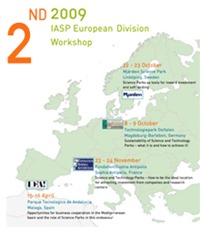 Venue

Technologiepark Ostfalen; Hotel: Maritim-Hotel Magdeburg