Title:
Announcing the 10 Inspiring Solutions finalists
First image: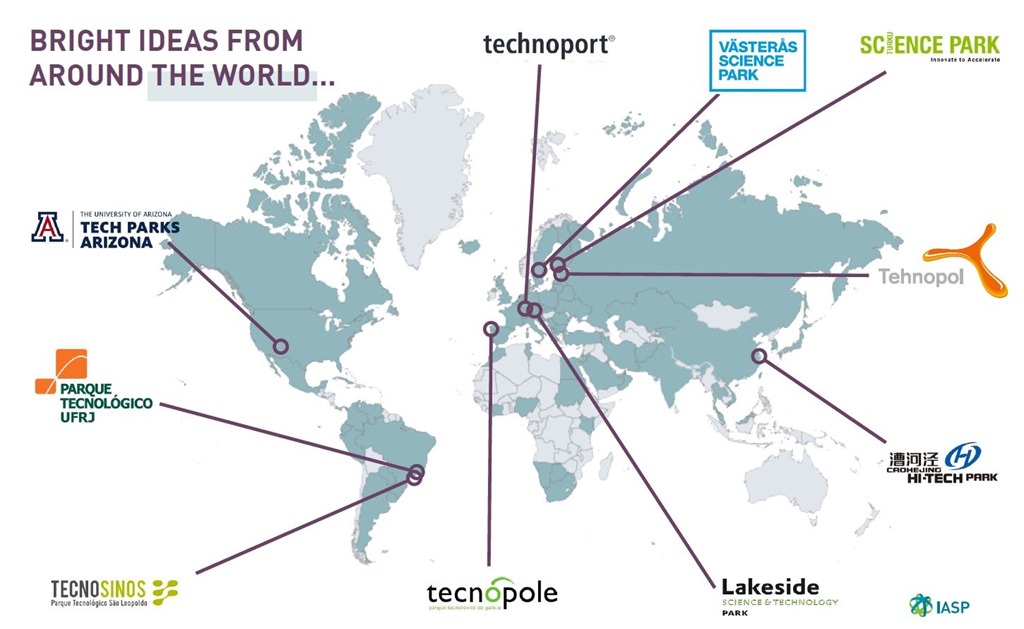 Text:
IASP is pleased to announce the 10 shortlisted entries in our 2019 Inspiring Solutions programme!
This year we had a truly great response, with 37 bright ideas submitted from 15 different countries. Our expert panel assessed them all, and now we are proud to share details of the shortlisted solutions with you.
IASP members can now vote for their 3 favourites, with the winners announced live at our upcoming World Conference in Nantes, France. Join us there to be the first to hear the news!
The 10 finalists (in alphabetical order by STP name) are:
Lakeside Science and Technology Park, (Klagenfurt, Austria): "Digital Kindergarten - Lakeside IT Curriculum"
The Digital Kindergarten is preparing the next generation for challenges and opportunities of the digital era, and the correct usage of digital devices via an educational programme in the ideal surrounding of an STP.
Parque UFRJ, (Rio de Janeiro, Brazil): "The Short Circuit Gallery of Public Art (Galeria Curto Circuito de Arte Pública)"
The Short Circuit Gallery of Public Art is an initiative taken by the UFRJ Science Park and the School of Fine Arts to transform the Park into a live laboratory for experimenting art that mixes technology and innovation.
Science Park Tallinn Tehnopol, (Tallinn, Estonia): "Level 11 – New Level in Innovation"
Level11 connects progressive Estonian corporations with Estonian start-ups to encourage joint innovation initiatives. 80 corporations and 70 start-ups were engaged resulting in innovation events, 1:1-matchmaking, innovation audits, company visits and Innovation Leaders' Club.
Shanghai Caohejing Hi Tech Park, (Shanghai, China: "Four-get Co-incubation Program—Shanghai Connectory run by CHJ and Bosch"
"Four-get" Shanghai Connectory is an IoT focused co-creation space in the heart of Shanghai, jointly operated by Shanghai Caohejing Innovation Center and Robert Bosch GmbH. The Connectory brings together startups, corporate & university partners, and Bosch project teams focused on digital innovation in supply chain, logistics and data driven technologies.
Technoport Luxembourg (Esch-sur-Alzette, Luxembourg): "Tomorrow Street"
Tomorrow Street is a joint-venture between Vodafone Procurement Company (VPC) and the technology-oriented business incubator Technoport. It is an innovation center headquartered in Luxembourg that runs an acceleration program for scale-up startups, leveraging growth through Vodafone's strategic worldwide network of partners and resellers.
Techparks Arizona, (Tucson, USA): "Women of the UA Tech Park"
25 women of The UA Tech Park were celebrated both for National Women's Month and the Park's 25th anniversary, sharing their stories & photographs online & in print. Each face symbolizes the diversity and strength that drives business forward, helping make the park a supportive environment where people are empowered/thrive.
Tecnopole Parque Tecnolóxico de Galicia, (Ourense, Spain): "Galiciencia, the biggest Science Fair for Youth"
Galiciencia is the biggest science fair held in Galicia, and aims to disseminate science and technology to society at large. Now in its 14th edition, it consists of a scientific contest and exhibition where students aged from 5 to 17 show their technology and science projects.
Tecnosinos, (Porto Alegre, Brazil): "Talents program – Bringing education and society closer together"
"Talents" brings the technology park together with high school students, women and people with special needs through programmed on-site visits that provide interaction with companies, employees, and university professors, awakening participants to the possibilities of future careers, with the ultimate goal of filling of job vacancies.
Turku Business Region, (Turku, Finland): "Maritime Accelerator"
Maritime Accelerator is a programme that brings together fast-moving growth companies and maritime corporations and accelerates cross-company collaboration in order to create concrete business ventures. Together with partner corporations and global growth companies we are building a fertile ecosystem and new concrete business ventures speeding the development of the maritime sector.
Västerås Science Park (Västerås, Sweden): "Framtidsverkstad"
In Framtidsverkstad ("Workshop of the Future"), high school kids work as digital experts. With the help of a unique design methodology they develop digital concepts for companies based on the company challenge and the digital future, strengthening cooperation between young people and companies.
Voting
Voting is now open for IASP members to select their three favourite solutions: the three which they consider to be the most innovative, the most inspiring, and the most useful for other science parks and areas of innovation.

You can read full details of this year's finalists at www.iaspinspiringsolutions.com; if you're looking for inspiration, don't forget that previous years' winners are also available in our library of best practice.
IASP members, keep an eye on your inbox for the link to vote!