Title:
Caohejing InnoDemo at 2019 London Tech Week
First image: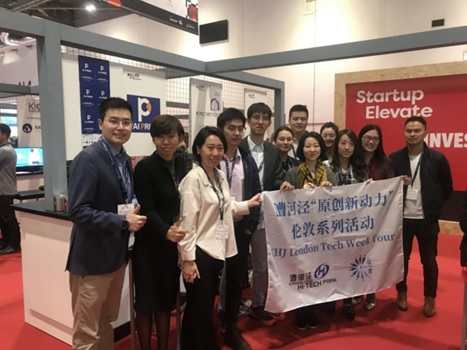 Text:
From June 10th to 14th, IASP member Caohejing Hi-tech Park took "InnoDemo", and its 20 featured startups to make their first trip to UK, where they attended the London Tech Week (LTW).
InnoDemo Overseas is an established brand event of CHJ that provides local entrepreneurs with better connections to the overseas market, and establishes and consolidates good cooperative relationships between CHJ and overseas organizations through road shows, round table talks, innovation visits and other activities.
During LTW, the InnoDemo startups showcased the latest tech developments, profit models and future vision of their projects to investors from all over the world, as well as forming valuable personal connections. LTW is one of the largest tech events in Europe, showcasing and celebrating the best of tech whilst providing networking, social, learning and business opportunities: in 2019, it was attended by nearly 40,000 attendees from more than 20 countries and 350 global exhibitors.
The group from Shanghai demonstrated the application of AI in the chemical industry, a logistics management platform enabling third party logistics, and several healthtech products which attracted interest from investors.
The group also visited UK Tech Nation, the Bosch London Connectory and attended the enterprise training course "Understanding Cambridge's 60-year International Ecosystem through Cambridge Phenomenon" at St. John's Innovation Center, Cambridge University. In the near future, Caohejing will establish a cooperative network with the Cambridge innovation ecosystem to further promote Caohejing's global ecosystem.
During the London trip, InnoDemo also embedded in a series of events to connect British and Chinese entrepreneurs and investors, and foster Sino-British collaboration. Through the LTW events, CJH aimed to provide Chinese talent and key opinion leaders with a platform to connect locally with global investors, showcasing the latest tech developments and investment trends and take part in the global discussion.
To learn more about Caohejing Hi-tech Park, please visit http://en.caohejing.com/.