Title:
Exciting first month of online content
First image: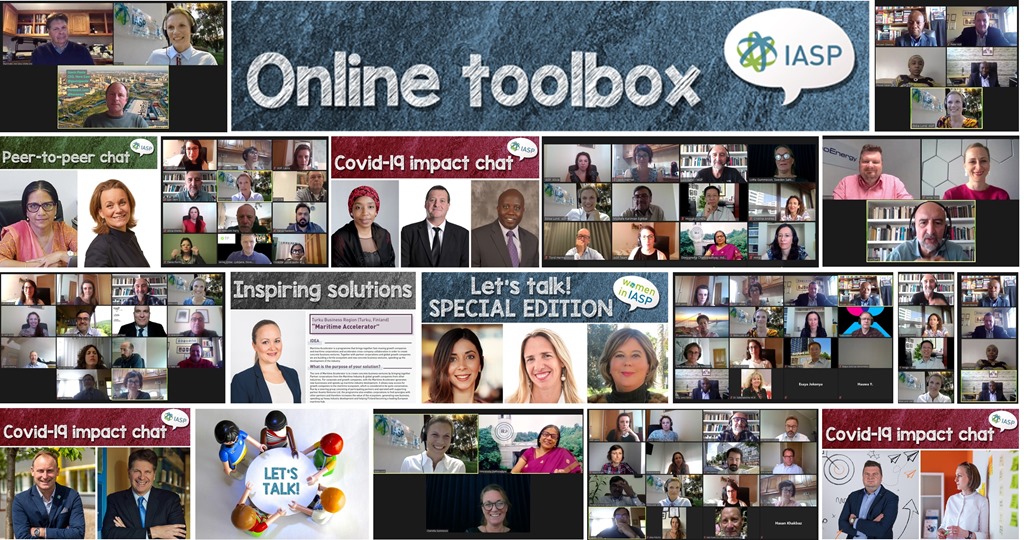 Text:
The world has gone digital, and IASP is no exception: with international travel and in person events off the table, we have hosted a series of knowledge sharing webinars to bring our global network together.
Comparing experiences around the world
We began the month with our "Let's Talk" sessions, bringing together IASP members from around the world to compare the experiences of science parks and areas of innovation under COVID-19.
Overall we found that quite a positive picture emerged: some sectors have been hit harder than others by the pandemic, but many participants reported that their STP/AOI is still standing strong during the pandemic and that innovation ecosystems are ideally placed to adapt quickly to changing circumstances, as well as playing a valuable role in communicating company needs and solutions and uniting their communities. Many still had good stakeholder support, and told us about thriving life science and ICT companies as well as opportunities for digital entrepreneurs and virtual incubation, plans for a 'blended reality' future and a potential pivot in real estate, and new ways to stay in contact with resident companies while working remotely and to continue meeting their needs.
Our Women in IASP subnetwork also got together, with updates on gender equality initiatives from Spain, Argentina and Sweden courtesty of Lourdes Cruz (Andalusia Technology Park, Spain), Dolores Cortes (Buenos Aires Innovation Park, Argentina) and Evdoxia Kouraki (Johanneberg Science Park, Sweden) and a chance to catch up.
Innovation ecosystems and COVID-19
Our "COVID-19 impact chat" series took a more in-depth look at how selected innovation ecosystems were adapting to the world in lockdown and beyond. We started with IASP Chairman Paul Krutko (Ann Arbor SPARK, USA) and Gavin Poole (Here East, UK) with IASP CEO Ebba Lund moderating, who discussed the future of offices and coworking spaces, how some sectors have been hard hit while others have flourished, and the value of strong relationships with resident companies and stakeholders.
We also heard from Martin Goroško (Tehnopol Science Park Tallinn, Estonia) and Anna Tórz (Poznan Science and Technology Park, Poland) who discussed new models of real estate and shared spaces, how team interactions and processes have gone virtual, increasing demand for mentorship services, and how innovation ecosystems can design new services to meet changing company needs during and after the pandemic.
Comparing experiences from innovation ecosystems at different stages of development across Africa was the focus in the next session. Hauwa Yabani (Abuja Technology Village, Nigeria), John Tanui (Konza Technopolis, Kenya), and Pieter Holl (The Innovation Hub, South Africa) reported enthusiasm from investors to continue building parks under construction, and reflected on the adaptability of smart cities to the new requirements of social distancing - something that science parks & areas of innovation are also preparing for. Along with moderator Mclean Sibanda (Bigen Global, South Africa), they also discussed the challenges and opportunities for startups during the crisis, and possible changes to established STP funding models and the services offered.
Knowledge sharing
Rounding off June, we also learned more about innovative best practice in science parks in a webinar from one of our 2019 Inspiring Solutions finalists. Sofia Tuominen (Turku Business Region, Finland) shared insights into their Maritime Accelerator, an initiative that brings high growth potential startups together with big maritime corporations.
Finally, our first "Peer to peer chat" looked at city, regional and international collaboration from the perspective of two urban life science parks in very different contexts: IKP Knowledge Park (India) and Sahlgrenska Science Park (Sweden). Deepanwita Chattopadhyay and Charlotta Gummeson discussed science parks as bridges between academia and business, collaboration across multiple sectors and how the neutrality of innovation ecosystems encourages collaboration instead of competition.
Why not join us for one of the new webinars we have lined up for July, and stay on for the networking afterwards! You can find full details in our Events section.