Title:
IASP 2019 webinar series to focus on Inspiring Solutions
First image: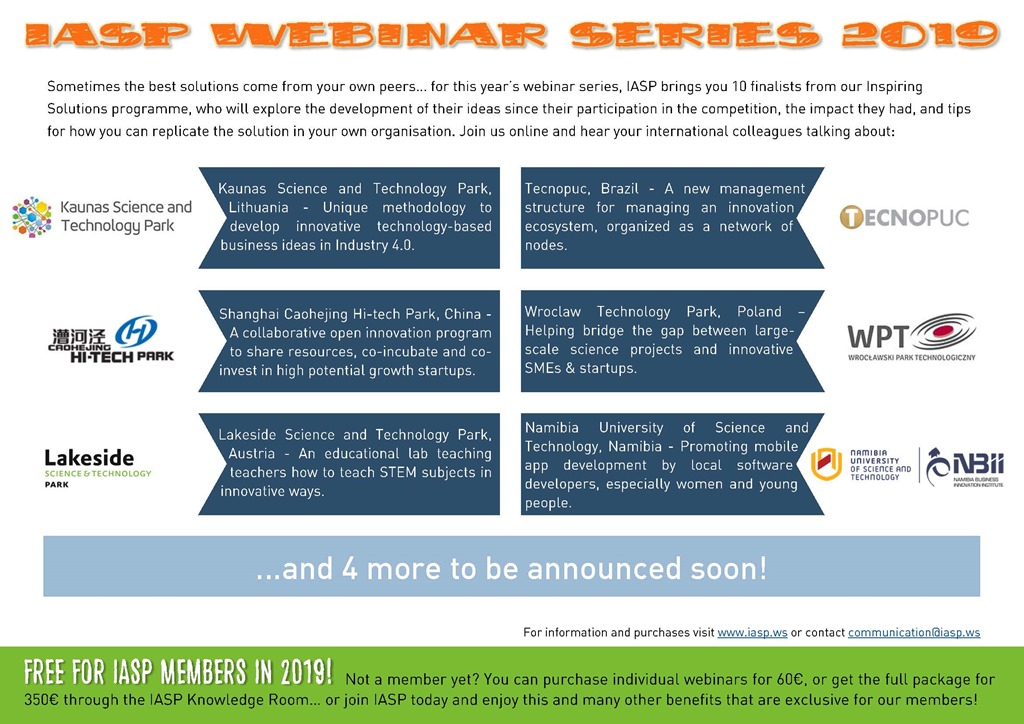 Text:
IASP is delighted to announce our new 2019 webinar series!
This year we are focusing on the bright ideas and best practice shared recently by our members in the IASP Inspiring Solutions programme. Recent winners and finalists will be presenting their entries, exploring how their solutions have developed, the impact they have had, and sharing their insight on how other IASP members around the world can replicate them in their own STPs and AOIs.
All webinars are now free for IASP members, while non-members can purchase individual webinars for 60€ or all 10 for 350€.
Learn from the best practice of your colleagues from Lithuania, China, Austria, Brazil, Poland and Namibia, with the following webinars already confirmed:
Kaunas Science and Technology Park, Lithuania - Entrepreneurship and New Product Development Program EVOLUT 4.0 ©
Unique methodology to develop innovative technology-based business ideas in Industry 4.0

Shanghai Caohejing Hi-tech Park, China - Thinkubation Accelerating Program driven by CHJ and Cisco CRDC


A collaborative open innovation program to share resources, co-incubate and co-invest in high potential growth startups
Lakeside Science and Technology Park, Austria - NAWImix
An educational lab teaching teachers how to teach STEM subjects in innovative ways, to empower the next generation of entrepreneurs
Tecnopuc Science and Technology Park of PUCRS, Brazil - Light and Fast Innovation Ecosystem
An innovative new management structure for managing an innovation ecosystem, organized as a network of nodes
Wroclaw Technology Park, Poland – Big Science Path
Helping bridge the gap between large-scale science projects and talented and innovative SMEs & startups.
Namibia University of Science and Technology, Namibia - Mobile Lab
Promoting mobile application development by local software developers, especially women and young people.
And more to be added later in the year!
For a preview of what they will be discussing, visit www.iaspinspiringsolutions.com/get-inspired, or why not share your bright ideas? Enter the Inspiring Solutions programme 2019 to get global visibility and recognition for your hard work, with winners announced live on stage at our upcoming World Conference IASP Nantes in September.