Title:
IASP Vice President visits Kyoto Research Park
First image: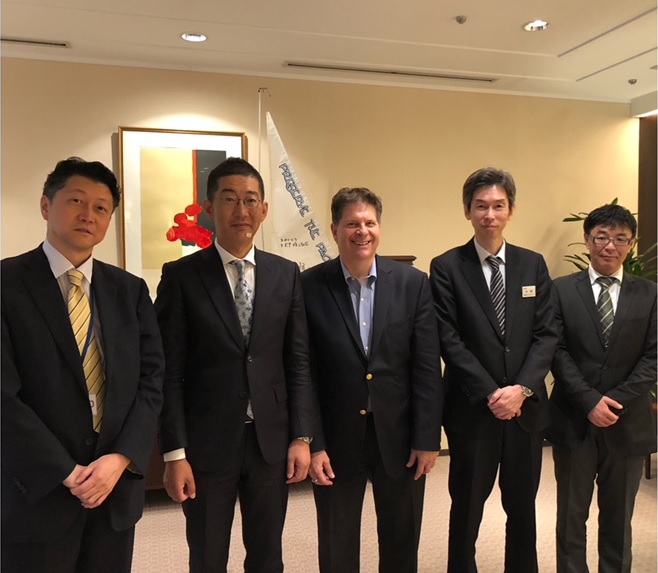 Text:
IASP Vice President Paul Krutko, (Ann Arbor SPARK, USA) recently visited Kyoto Research Park as part of a trip to Japan.
He met with Nobuya Ogawa, President, Shigekata Mizuno, Managing Director; and Hiroyuki Kurano, Takeshi Adachi and Ryoichi Inoue of the Corporate Planning Department, who shared an excellent overview of their activities and building program.
During their meeting they found that there were many similarities between the Ann Arbor SPARK Area of Innovation and the Kyoto Research Park (KRP). Both are to be found geographically in the heart of their respective cities; both are largely private sector driven initiatives that are fully integrated in the quadruple helixes of their respective regions, with academic as well as local and regional government participation. As well as this, both organisations support startups, rapidly growing businesses and mature technology companies within their geographies. Of particular interest, was an emphasis by the KRP in showcasing and supporting the design and development of various products reflective of Japanese and Kyoto culture.
Areas for future follow-up were also discussed, including the possibility of more direct links between Ann Arbor SPARK and the Kyoto Research Park. Mr Krutko also encouraged President Ogawa and Managing Director Mizuno to consider bidding to host an IASP world conference in the future. Meeting facilities at the park and the beautiful city of Kyoto would make for an excellent location for such a gathering.
Visit their profiles for more information on Kyoto Research Park and Ann Arbor SPARK.