Medeon Science Park
Background information
Based in Malmö, Medeon Science Park works in collaboration with nearby Skåne University Hospital, Lund University, Malmö University and other local stakeholders to offer a creative environment to support the development of life science and health-based companies in Greater Copenhagen.
As well as office and conference facilities, Medeon runs an active Life Science Network, which promotes the exchange of information among researchers, care providers and entrepreneurs through regular meetings to create and strengthen research and business relationships.
Other services include the Medeon Science Park incubator for newly started companies in life science, which offers industry specific coaching, business counselling, training, and access to venture capital networks. The incubator also offers support in finance, legal, marketing and sales, IP issues, leadership development, and network activities such as breakfast meetings, membership in Medeon's Life Science Network, as well as access to attractive supplier agreements for Medeon companies, in addition to efficient office premises with fully furnished rooms, cleaning services, attractive rent, conference rooms, a common meeting area with cafeteria, copying machines, broadband, and reception with telephone service and mail management.
Medeon's philosophy is that each and every growth industry has its unique needs. Their strategic focus is on knowledge-intensive companies in the life science field (pharmaceuticals, medical technology, biotechnology and healthcare). Among the advantages of a stimulating corporate climate with an ideal location are:
With 60 tenants on site, the park is still growing and attracting new companies. New buildings are planned in the near future with a total of more than 100,000 square meters of space set aside for businesses in the life science area.
Logo: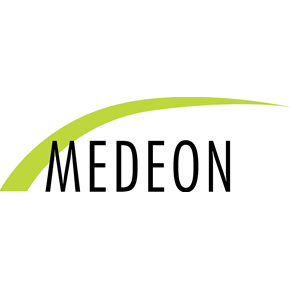 Main technology sectors

Name:

Chemistry and Chemicals

Name:

Health & Pharmaceuticals